I'm an active member of several writing organizations that offer Writers in the Schools (WITS) programs, and would love to chat about a virtual or in-person author visit. I will work with you to tailor sessions to your students' needs, but here are a few ideas from past sessions:
Flying High into Books (pre-primary through Grade 2): Read-aloud, activities and Q&A focused on my picture books
Wonder-Full Writing (Grades 3-6): Interactive session about my books, path to publication, Q&A focused on history, ghost stories, and channeling your sense of wonder
Five Tops Tips for Researching & Creating Nonfiction (Grades 4-6)
Interviewing for Fiction and Nonfiction (adaptable for Grades 3 and up)
The Care and Feeding of Creatives (adaptable for Grades 3 and up): hands-on strategies for self-knowledge, self-care, handling rejection and anxiety around the creative process.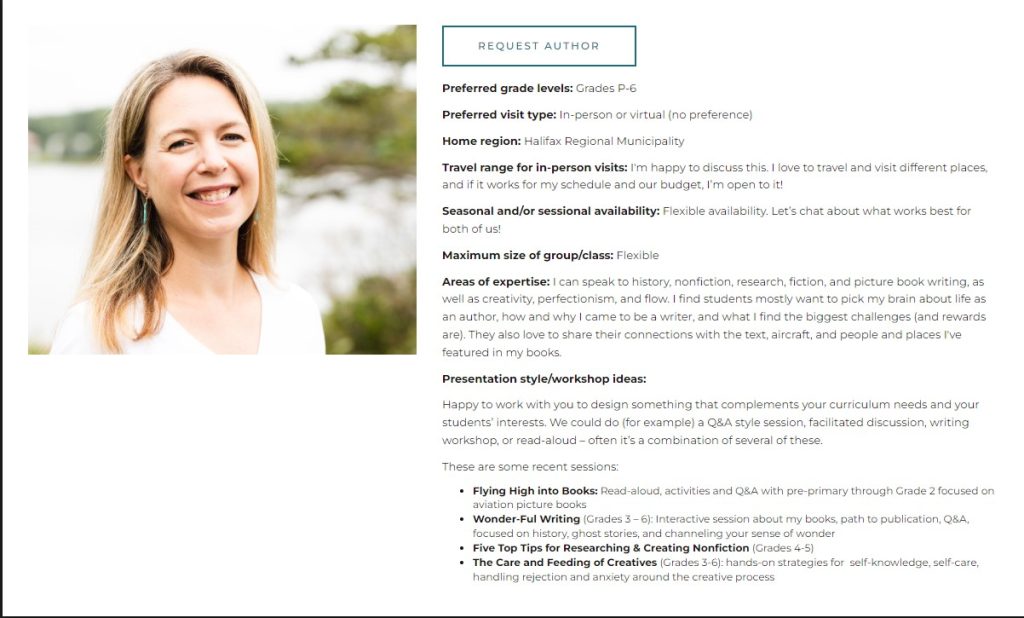 Rates start at $100 (CAD/USD) + taxes based on the length of session and whether it is virtual or in-person. This includes all administrative and prep costs. Travel costs are extra.
Here are resources and activities to get you started!
Click here for a free printable craft created by my publisher!