After our escape from misery Sunday afternoon, we checked into the Grand Targhee Ski resort, which was the perfect place to hang all our gear to dry, work our boots over with a hair dryer, do some laundry, and catch up on sleep. Never mind that the restaurant was closed Monday-Wednesday, the hot tub was on the fritz, and one of the beds had stained linens: it was warm and dry and we didn't worry about mucking it up with our gear!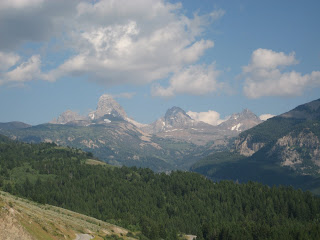 Sunday night, after awakening from our nap, we were like bears emerging from hibernation: hangry (def. angry because hungry). We drove 15 minutes to Driggs expecting to find a plethora of choices but instead found that this largely Mormon town had basically shut down Sunday evening. So we kept driving to Victor, another 10 minutes down the road. We stopped in at the
Grand Teton Brewing Co
. thinking there might be some pub grub, but they don't serve food.
Back to Driggs we went, eventually finding
Tony's Pizza and Pasta
, which was perfect. There was a salad, pizza, and pasta buffet for $10 and we ordered a "flight of beer" of seven sample-sized local beers (our faves were the hard-to-get GTBC
Organic Au Naturale
and
Snake River Pale Ale
). Then for dessert they had warm cinnamon buns. After committing carbicide (i.e. death by carbohydrates) we drifted sleepily back to the hotel and soon passed out.
The next day was our "townie" day, which started with a hearty breakfast and great coffee at the
Milk Creek Grill
in Driggs. Then we headed into Jackson for some people-watching, window shopping (too expensive and kitschy to do much else), and to find the world-renowned
Bunnery
. Since we'd had a late breakfast, we thought we'd skip on lunch and just subsist on a generous serving of their Very Berry Pie and Caramel Chocolate Cheesecake. Oh… my… God….
We drove to our next B&B; in a sugar coma, which might help explain why we couldn't find it right away (well, that and the GPS coordinates were wrong and I forgot to bring the address). We finally found the
Sassy Moose Inn
, a lovely place with views of the Tetons. While we received an enthusiastic greeting by the owners' black lab, Cher, the owners themselves were nowhere to be found. The building was unlocked, though, and we found our room, unloaded our stuff and gave the owner a call on his cell phone to let him know we'd arrived. It turned out their style is very hands off: the wife of the team came into the house to make breakfast the next morning and then they both promptly left, never checking in with us about our stay or saying goodbye (or refilling the coffee pot)! We're pretty self-sufficient people, though, and made the most of the outdoor hot tub at dusk which had lots of buttons for Doug to push (and from which I saw my first shooting star)!
We were a little nervous heading out into the backcountry again (see previous post) but felt fortified after our two nights in real beds and the pound of meat from Bubba's Bar-B-Que we'd ingested the night before. That, and the weather forecast looked much more promising.
We took the winding mountain pass from Jackson back over to Idaho and headed up to the Teton Canyon Campground just past Alta, WY where we parked at the Alaska Basin/Table Mountain trailhead in the Jedediah Smith Wilderness. We piled on the sunscreen and bug dope, changed into our hiking boots, and started in on the trail at the same time as another couple in their early 60's who live in Jackson and were out for the day. We hiked the first five (gradually ascending) miles with them, through beautiful meadows, exchanging travel stories/tips along the way. We even stopped and had our lunches together next to the river.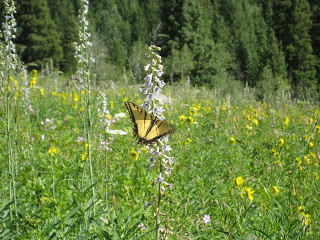 At around 5.5 miles up the trail we parted ways. They just had day packs and had to hike back before their food, water, and energy ran out. So we said goodbye and then Doug and I did our best tight-rope walker impression across this "bridge" before continuing up.

We'd read in the trail guide that it was at this point the hike started to get a little stiffer, and that proved true. By mile 6 we could really feel the weight in our packs and the sweat pouring down our backs. With the help of some snacks and stubbornness, we made it to the top of the Alaska Basin by around 4 p.m. (total elevation gain of 2,400 ft), but it took another 45 minutes of hunting for a campsite before we were satisfied that we had the ideal mix of solitude, breeze to keep the bugs at bay, and level ground.
We cleaned up, filled our reserves with filtered water from the nearby creek, and rested for a bit. Then we made our freeze-dried Caribbean beans and rice which we enjoyed with these mini bottles of Shiraz and an appetizer of jalapeno almonds.
The flies and mosquitoes were a nuisance in the Alaska Basin, even as late as August, likely because of the alpine lakes and the wet spring/early summer. But this time I was better prepared: head nets and lots of DEET (the wine didn't hurt either)!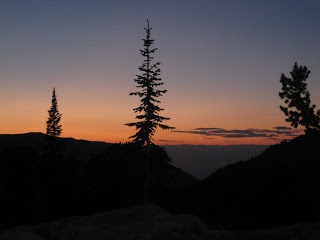 Alaska Basin at sunset
The next morning we got our breakfast and instant mocha mix together, then packed a bag with day supplies to tackle the climb to Hurricane Pass (another 1000 ft elevation gain, up to 10,500 ft). I'd read that this side trip was definitely worth the effort, but that if you could ditch your heavy gear first you'd probably enjoy it more. So up the steep switchbacks we went, then down into the valley that held beautiful Sunset Lake, then up again to Hurricane Pass and the Schoolroom Glacier. We passed a lot of other backpackers on the way, laden with gear since this is part of a popular trail back into Teton National Park, and they were very jealous of our light load.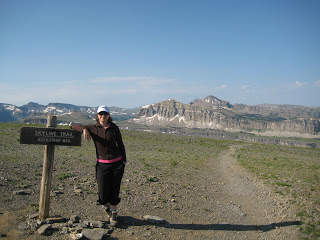 Me near the top of Hurricane Pass, with Battleship Mountain to my left and Meek Mountain behind me (Doug carried the pack up).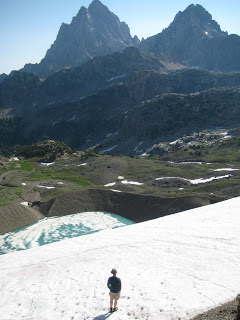 Doug climbed down the loose rock to stand on Schoolroom Glacier. There are so many times on these hikes that you feel really, really small.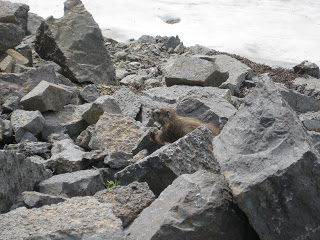 We didn't see any 'mega-fauna' on this trip (i.e. no bears, moose, elk, etc) but lots of plump Marmots, whose little tails do a funny clockwise propeller motion when they run.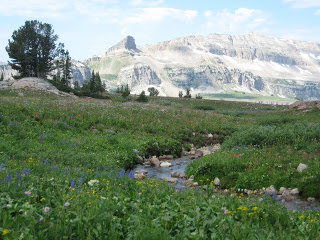 Unlike our hikes to Adobe Town and other desert locales, water was not an issue in the Alaska Basin. We had our trusty filtration system and emergency iodine drops. So we were good to go, dysentry and giarda-free!
This backcountry adventure was a two-night affair, so after doing the 5-mile trip to Hurricane Pass, we had a quick snooze and lunch and then packed up our gear to continue down the trail. Doug had told me we wouldn't be doing much elevation gain, but that was false: we had some pretty stiff uphills over switchbacks for the first mile or two, but then it did level out once we had reached the top of the ridge, thus saving our marriage.
We popped "magic skittles" to fuel us (no, not pyschedelic drugs but actual skittles that I tried to imbue with magic properties to keep one foot moving in front of the other) and kept slogging forward through the sub-alpine meadows, a little blind to the beauty around us. While the meadows were gorgeous, they didn't make for great campsites, so it took us quite a while to find someplace that might work. In the meantime, we'd had to load up on water because our GPS indicated our path diverged from any water source for quite some time. It's always great to have to add an extra 8+ pounds to your pack near the end of a long, tiring day!
Doug did find a good spot where someone else had trampled the meadow, and I was so tired that I passed out for two hours before dinner. Then we ate our dinner, drank the last of our Shiraz, and passed out once again.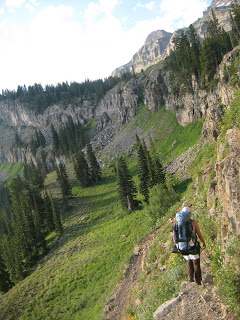 Our final morning, we awoke in great spirits, knowing that in a few short hours we would be back in Ellie on the road home to a shower. First, though, we were going to stop for burgers in Pinedale and Moose Mania ice cream at the general store in Farson along highway 191, otherwise known as the Jonah 500 because people drive it so fast.
First we had to tackle the Devil's Staircase, though, which was pretty hard on the knees and a little nerve-wracking. We made it down in one piece and quickly walked the final two miles to the parking lot, passing lots of fresh-faced people just starting their hikes into this amazing spot, feeling pretty proud of ourselves.