As an active director (and past president of the society), I'll be attending part of this convention in September. Hope to see you there!
The Canadian Aviation Historical Society (CAHS) returns to Ottawa-Gatineau for its 50th Convention and Annual General Meeting on 11 – 15 September 2013 – the BIG FIVE O! Both the Program and Schedule of Events has been finalized and can be downloaded here. All that is missing from the BIG FIVE O is you! To be part of this very special five-days, complete the Registration Form and Schedule of Fees and return it with your cheque. We hope to see you in September for the BIG FIVE O! For more information, please contact the Convention Chairman, Timothy Dubé, at cahsyow@cahs.ca.
Event Schedule and Details
Celebrating 50 years is a BIG deal! In addition to two-days of historical presentations, the BIG FIVE O will include a number of special events and tours. These begin on Thursday evening with a BBQ and tour of the Canada Aviation and Space Museum (CASM), with the bonus of seeing the ongoing restoration of Canadair C-54GM North Star 17515. On both Friday evening and all day Saturday, the CAHS will be special guests at Vintage Wings of Canada's Wings Over Gatineau-Ottawa air show. On Sunday, CAHS members will return to the CASM to be witness to the annual Battle of Britain parade and flypast. The BIG FIVE O wraps-up on Sunday evening with an early-Autumn Harvest Feast and the presentation of CAHS awards.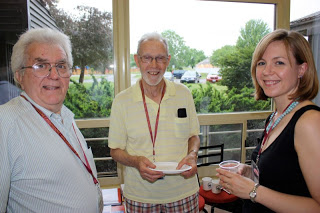 Location and Accommodations
Headquarters for the BIG FIVE O will be the Albert at Bay Suite Hotel in downtown Ottawa. Each newly-renovated, one-bedroom suite includes one or two queen-size beds, a spacious living room (some with a pull-out couch), private bath, and a fully-equipped kitchen. We have secured a rate of just $139.00 plus taxes, per night, single or double occupancy. Make your reservations now by calling 1-800-267-6644 or 613-238-8858 and asking for the "CAHS Annual Convention" Group Rate. The deadline to secure this rate is 12 August.