Aviation history – indeed history in general – is often seen as a little dull by the general public. While there are those who love lists of dates, facts, and might even have a footnote fetish like I do, most people do not. I think most of us do like humour, gripping stories, and special events that highlight the adventure and romance of of bygone eras.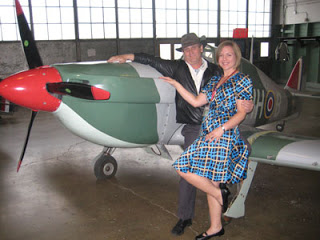 Me with Alberta Aviation Museum exec director, Tom Hinderks, leaning on their 5/8 scale Hurricane

So this is what I focused on for the 2011 Canadian Aviation Historical Society Convention, and why I was excited to partner up with the
Alberta Aviation Museum
for their swing dance, bush pilot dinner, and AirFest.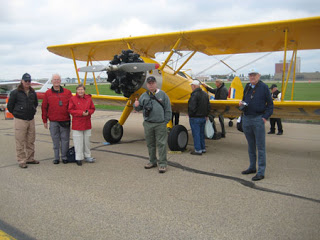 CAHS Convention-goers checking out the aircraft at AirFest (Photo: Richard Goette)
Here's some more photographic proof that aviation history can be a ripping good time (for more, please check out the photo gallery at
https://www.cahs.ca/
)!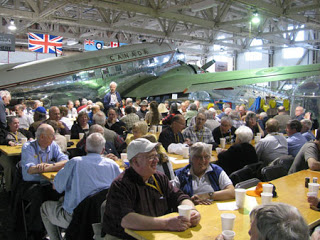 Convention attendees joined forces with the Alberta Aviation Museum's volunteers for a bush pilot dinner – no cold beans in a can for us, though…. (photo: John Chalmers)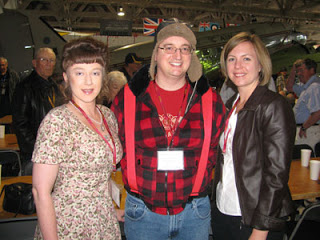 Who doesn't like playing dress-up?! (Photo: John Chalmers)
…or shooting down the enemy from the mid-upper turret of a Lancaster movie mock-up on loan from
Bomber Command Museum
?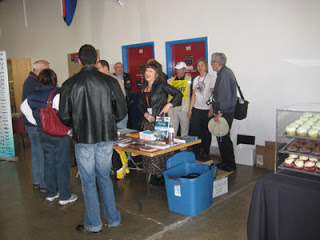 …or getting to shoot the breeze with visitors to AirFest (and getting to eat delicious treats from Enjoy Cupcakes, set up next to us!)?