On Tuesday, March 9th I hit the road for my big move from Wyoming to Edmonton, Alberta. Here is that journey in photos!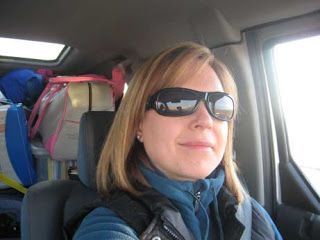 Leaving home bright-eyed and bushy-tailed for the 2-day, 17 hour drive north.
What I saw in my rearview mirror. I can't believe Doug made it all fit!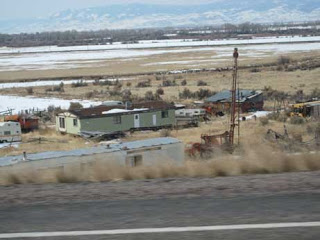 My "Ellie" had had engine troubles the week before and so I was worried I might have to join this roadside community in Idaho if I broke down. "Anyone want to trade a book for food?"
Crossing into Montana there was some beautiful scenery – when the clouds parted and the snow/slush/rain/hail stopped (it must have followed me from Idaho!)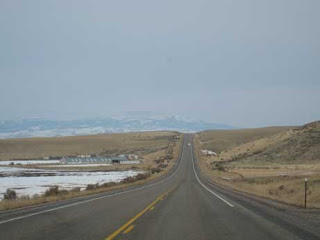 Just me and the open road….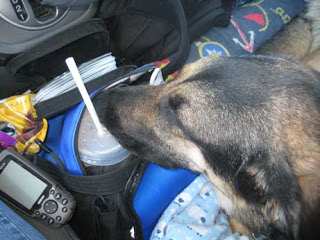 And Riker, who insisted on sitting (and sleeping) up front, even though we'd put his bed in the back (and I'd left several pairs of shoes at home to leave space for it!)
There were lots of cool rest stops along the way – and considering it was blustery and mid-March, they were all deserted. Great for getting out and stretching our legs!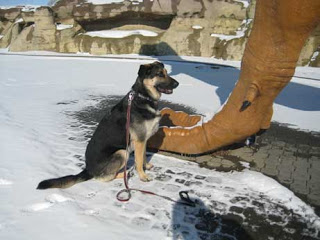 Riker found a new friend in southern Alberta after we crossed the border…
Home Sweet Home. I took possession of the new place on March 11th. Pretty swanky set-up for my first meal (of leftover Korean food!)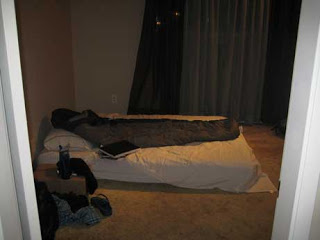 Camping in style. Inflatable mattress? Check. Cardboard box/night table? Check.
Unfortunately, I ended up camping out more than expected. I couldn't work the showers for the first few days (tricky set-up that several people couldn't figure out and we couldn't reach the old owners). Gotta love the old bucket bath… Then someone inadvertently turned off the furnace and we couldn't get it working again for 24 hours (did I mention I'm in the northernmost city in North America? And that it's March?)
But after a few panicked phone calls to my parents and a few tears, everything's in working order and I'm settling in to a routine of writing, trips to Home Depot, and updating the decor. Stay tuned for all those project updates!
#znkopvdman{display:none;visibility:hidden;}