By John Chalmers
CAHS Membership Secretary
With the passing of William J. Wheeler, the Canadian Aviation Historical Society has lost one of its original members and one who made a great and lasting contribution to the CAHS. For 45 years from 1963 to 2008, Bill served as the original editor of the CAHS Journal, working as a volunteer in a job he regarded as a labour of love.
A talented artist, writer and editor, through his work for the CAHS, Bill came to know personally many important Canadian aviators through publishing their stories. Born November 19, 1931, Bill died at Markham Stouffville Hospital on January 21, 2020 at the age of 88.
In an article published in the Markham Economist & Sun in 2011, the year Bill was inducted as a Member of Canada's Aviation Hall of Fame for his contribution in editing and publishing the Journal, CAHS vice-president Gord McNulty wrote, "Wheeler's unassuming nature belies his many accomplishments as a teacher, artist, author and encyclopedic aviation historian. His home is a virtual art gallery of fine renditions of aircraft in flight and albums of illustrations he drew for high-profile clients."
McNulty's article also stated, "Wheeler worked as a freelance illustrator during the early 1960s for the de Havilland Canada aircraft company, the Toronto Star Weekly and various publishers. He also illustrated a boy's book on First World War flying – Knights of the Air – for Macmillan Canada. A bestseller, it achieved about eight printings in at least two editions. Wheeler illustrated 60 books in whole or part, often collaborating with his wife, Pat, also an Ontario College of Art graduate, and a distinguished cartoonist."
As an author, Bill published three other books about aviation: Images of Flight, Skippers of the Sky, and Flying Under Fire. He graduated from the University of Toronto with a Bachelor of Arts degree and became head of the art department at West Hill Collegiate Institute in Toronto. He held that post for 28 years until retiring in 1994. A resident of Markham, Ontario, Bill was predeceased by his son, Donald, and is survived by Pat and sons Douglas and Christopher.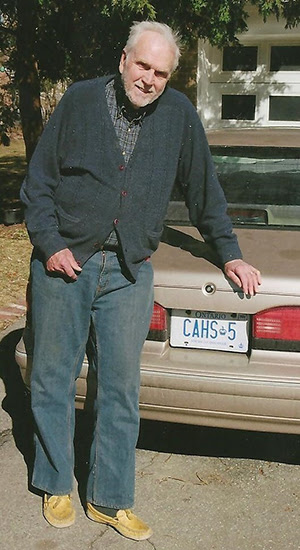 The fifth member to join the Canadian Aviation Historical Society, Bill was active in publicizing the CAHS and encouraging fellow enthusiasts to sign up as members. Proud of his association, Bill had his membership number produced on a custom Ontario licence plate.
Bill Wheeler leaves behind a lasting contribution to Canadian aviation history in a legacy of publishing the CAHS Journal, which he developed as Canada's premiere aviation history magazine. He is remembered and honoured with the CAHS William J. Wheeler Volunteer Service Award. His biography in the web site of Canada's Aviation Hall of Fame can be seen when you click here and then click on William J. Wheeler.
CAHS chapters or individual members who wish to remember Bill with a donation can do so with a contribution to the Canadian Cancer Society or the Markham Stouffville Hospital at mshf.on.ca.