June 7th Andria and I departed Ottawa in a 14-ft Uhaul truck, complete with 6 wheels, Mother's Attic and lots and lots of stuff.
We noticed the licence plate fittingly – since I'm a Canuck and Andria's from the States – had both Canadian and American flags. We decided this was a something of a two-nation frienship tour across northern Ontario and the Prairies… and since we had only intermittent radio signals and no CD player or Ipod hook-up, this eventually led to a discussion about relations between our two great countries.
After Tim Horton's coffee and some Timbits, the conversation continued to
Three Dead Trolls in a Baggie
, an Albertan group who has chronicled one of our famous cross-border kerfuffles, The War of 1812, in song form. With a chorus of "And the White House burned, burned, burned…" you know you've got a hit! (Check out the link above to see them bravely performing the song live in Seattle!)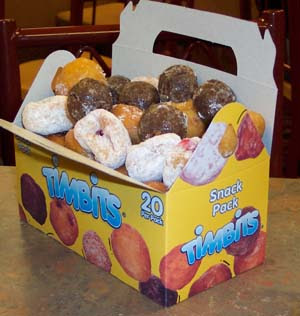 As we bopped along northern Ontario another song by the Three Dead Trolls came to mind – The Toronto Song (aka "Ontario Sucks). Being from Ontario and having lived all over this fine nation of ours, I find this hilarious… Another Alberta group, the Arrogant Worms, have also tapped into the zeitgeist of our country at the turn of the 20th Century with songs like "Trees and Rocks," "Canada's Really Big." and the "Mountie Song."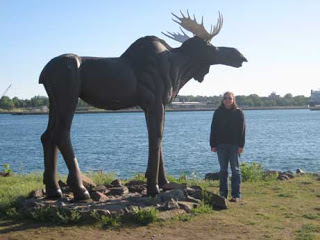 We made a few friends along the way, including this large moose in
Sault-Ste-Marie
(The Soo) and I got to revisit my ol' pal
the Goose
in Wawa.
Observe how one northern Ontario town deals with its homelessness problem (just kidding!)
Manitoba to Edmonton is a bit of a blur to me of gas-ups and pit stops, but there are some things that stick out in my memory:
the new

Earl's

in Winnipeg has scrumptious edamame and a soup/salad combo. One great thing about living in the West is we've got 'em all over the place! (Don't worry, Andria, there's one in Denver too!).

the small town in Saskatchewan (that narrows it down!) with unpaved streets and roads that led nowhere… weird…

CBC Radio

sounds like home, although

NPR

rocks too! Especially hearing K'Naan and the Young Artists for Haiti singing 'Wavin' Flag'… I was captivated by one female vocalist at the end and it turns out it's

Nikki Yanofsky

, a 16-year-old jazz singer from Montreal.

Incroyable!
We arrived in Edmonton completely done with driving and U-hauling. Initially we'd thought of going for a hike in and around Jasper before Andria flew home, but after 5 solid days of bum in seat the last thing we wanted was to be back in a moving vehicle for any length of time. Instead, we went to Elk Island National Park, a 30-minute hop east of town. While we saw Bison on the edges of the park (from the road) once we were on the trail Riker was the biggest fauna we encountered.
We also traded the regular touristy things for lounging, laundry, and good food. We revisited the Cora's franchise (they drop the "Chez" in English Canada), which opened in Edmonton right before we moved here; my fave Indian buffet spot, Maurya Palace on 34th Ave; and Brewsters, my new favourite brewpub, where we ate and had a sampling of beers. So far Farmer's Tan White Ale and Gunther's Hefeweizen top my summer sipping list…but the Blackfoot Blueberry and River City Raspberry Wheat Ales are pretty tasty too…
Unfortunately I couldn't convince Andria to pull up her Wyoming roots and move to Edmonton, but I think the beers and breakfasts (among other things) might woo her back for visits!