Even when you lose someone special, the show, as they say, must go on. A few days after our return from Ottawa, Doug and I were scheduled to fly out to Houston where Doug was to receive a week's training to become the Rock Springs Schlumberger office's radiation specialist officer, and where I would give a talk at the Houston Aviation Alliance's monthly luncheon.
The humidity hit us as soon as we landed at George Bush Intercontinental Airport on Saturday, September 12th. It was early afternoon when we arrived at our hotel, the lovely
Crowne Plaza Downtown Houston
, and the storm clouds were threatening. Not wanting to sit still after all that time on planes, we hopped a cab (with a French-speaking driver!) over to Houston's mega shopping destination,
The Galleria
. I was absolutely gobsmacked at the size of this mall, the number of people there, and the high-endedness of the stores in one 'neighbourhood' of the centre. We managed to find the "middle class neighbourhood" after a while and I practically pranced around Banana Republic, Anne Taylor Loft, and Nordstrom's. Ah, the delights of consumerism!
Then we were off to
The Oceanaire
to consume the fruits of the sea: oysters, calamari, mussels, crab, and some kind of white fish. We also enjoyed the fruits of the martini glass, the crusty bread, and the attentive service (a rarity we have come to appreciate!). Then we wandered around a bit more before catching a cab back to the hotel, with hands-down the worst cabbie of all time: he almost hit another car seconds after picking us up, couldn't find his way even with a GPS unit, and seemed terrified to change lanes or exit/enter the freeway!
Sunday after breakfast we took ourselves to the
Houston Aquarium
, wandering through the interior exhibits (like the White Tigers) before going on a couple of the rides: a choo-choo train around the grounds and through the shark tunnel, and this ferris wheel with a breathtaking view of…. the freeway.
By noon we started walking around downtown, the sweat rolling down our backs from the simple act of strolling. We came across the
Discovery Green
, a space with water parks for kids, a pool for radio-controlled toy sail boats, and on this particular day a Green farmer's market where we picked up a container of
Blue Heron Farm's
chevre (their motto is Spoiled Goats, Fresh Cheese) and a rustic baguette for lunch.
Then we checked into the
Comfort Suites
in nearby Stafford, TX where Doug's training would be. After a refreshing dip in the pool and a nap, off we went to Las Haciendas restaurant, where the portions were decidedly more Tex than Mex and the margaritas were (hiccup!) soaked in Grand Marnier.
Monday was my day to give a talk to the members of the Houston Aviation Alliance at the Hilton Hobby Airport, so at 9am I went to get my rental (a cute red Toyota Yaris) and an hour later I was on the freeway headed east. I only got a little lost – especially compared with our cabbie who had a GPS – but I made it alive and on time. The group was very welcoming and asked me some great questions afterwards. While Houston is far too big a city and too hot and humid for my tastes, I wish I could be there this October and November for the airshows and other events!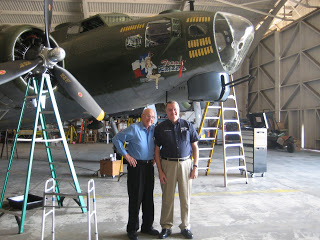 After the talk I was escorted by two of my handsome lunch companions, Col. Van Skiles and Col. Don Outler, to a small hangar where they and many other volunteers have been painstakingly restoring a B-17 bomber named
Texas Raiders
over the past 7 years at a cost of $800,000.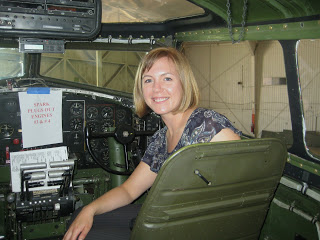 As you can see, I even climbed up into the plane – in high heels no less! I couldn't get over how tight the fit was. And they tell me 10 crew would be in the aircraft at a time – at a maximum weight of 120lbs apiece. Jockeys of the air!
Wednesday I was on my way back home, having left Doug behind, so that I could prepare for my appearance at the Wyoming Book Festival on the other side of the state in Cheyenne on Saturday the 19th. I was one of the "lesser" writers (i.e. not one of the well-knowns) and so was part of the authors' fair under this canopy. I had the first slot in the morning and it was a little quiet, but I did get to chat with some folks.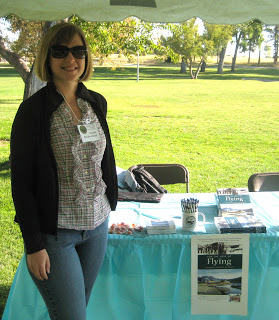 When my time was up I wandered over to the 'big stage' where two of Wyoming's literary darlings –
Craig Johnson
and
Margaret Coel
– had decided to combine their slots and do a conversation rather than a presentation. It was magical! They had great chemistry and spoke candidly about their inspiration, their struggles with writing about cultures not their own, etc.
After their talk, one of the festival organizers came over and told me that I could have a slot between the 'big names' on the main stage. So at 11:45am I grabbed the mike and literally got my 15 minutes. The crowd wasn't very big because most people had followed Craig and Margaret into the book signing building (or Clifford the Big Red Dog to the children's tent), but I still had some friendly faces looking back at me from the grass.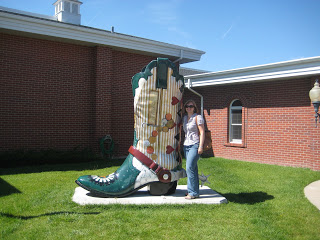 So Cheyenne didn't give me "the boot" (which is how they joked I pronounced 'about') but rather adopted me as one of their own. And the Houstonians gave me a true down-home, very warm, southern welcome. Doesn't get much better than that!