On Wednesday, October 13th, after a day and a half to do laundry and regroup in Dawson, I repacked my bag and headed out. Destination: Old Crow, the Yukon's only fly-in community.
Old Crow is not a hub of tourism. The group of us staying at Patti and Kenny's Ch'oo Deenjik Accommodations was pretty indicative of those that come to the Yukon's most northern community: there was me, a writer-researcher; Jeannie and Allen, early-childhood educators/entertainers from Whitehorse; and Joanne, who was in town teaching a session on videoconferencing.
I had never been to Old Crow before, but a quick look at Googlemaps convinced me I should probably bring some of my own grub. There was not going to be a Starbucks here! And while they do have a store in town, the cost of goods is so prohibitive (at least double the prices in southern centres, according to Indian and Northern Affairs Canada) that I was very happy to ration my granola bars, soup, and other foodstuffs.
A hike in sub-zero temperatures is probably not the best idea when you're on rations, but I felt very much out of my element when I first arrived in this remote community, and I often find going for a walk is a good way to settle in. So I left the warmth of the cabin and headed out past the end of the runway, and up a long, long road.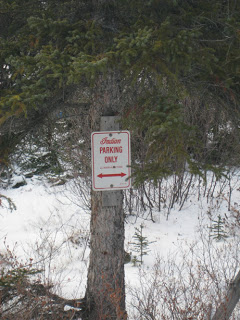 Along the way I passed all manner of cabins, signs, and animal tracks. This was my favourite, though – really brought me back to my grad school work at
UBC
, and the ongoing politics of contact relations. But the Yukon is a whole other context, and I'm learning by the seat of my pants… luckily I've been getting good guidance from the folks at the
Vuntut Gwitchin FN
(and hopefully soon the
Tr'ondek Hwech'in FN
here in Dawson).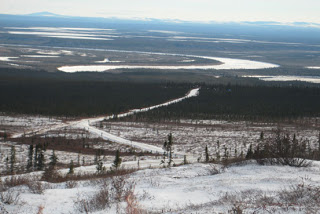 A view from the top of Old Crow's "end of the road." You can see why the Vuntut Gwitchin call themselves the
People of the Lakes
. You can also see one of the most important waterways of the region, the
Porcupine River
snaking beyond. During my trip I heard stories of tens of thousands of animals from the
Porcupine Caribou herd
fording this river, but this year the herd has veered from its normal course and meat has been scarce.
Near the top of the road, though, I did come across a man who had just caught a straggler. We had a good chat and I was so impressed with how quickly he field-dressed and loaded the animal onto his ATV (which is the main mode of transpo in Old Crow aside from boats in summer and snowmobiles in winter). He did tell me, though, that a grizzly had been spotted in the area and I really shouldn't be up there without a gun.
Good to know. And time to high-tail it down the hill before Mr. Grizzly got scent of all that caribou blood!
The next day the sunny, relatively warm 'fall' weather (by northern standards) turned cold. Very cold. The kitchen heater in the cabin struggled to pump warmth into the bedrooms and midway through the night I decided to abandon privacy and open my door. And pile on the extra blankets…
Noon on an overcast, fall day.
The quality of the light "up here" continues to fascinate me.
As does the artistry of hoar frost.
During breaks from research at the
John Tizya
cultural centre, I wandered around, watching the river as it gelled in the cold.
I'd heard stories about northern communities supporting Pepsi and Coke products almost single-handedly. Here is one load of drinks coming in on the Air North plane (No pop for me, though: a can at the store cost $4 from what I heard). Soon my Old Crow diet was done and I was on the plane bound for Inuvik, with a great appreciation for this lovely community, its history, and its hospitality.
I really hope I get back soon.