I recently found out about a new journalism site, www.beststory.ca, being set up by Montreal-based reporter and editor Warren Perley. After checking out this new delivery model – readers pay only for the stories they want to read, and there's no advertising – I was intrigued. Enough so to get in touch and offer to write something on spec, which I've never done before!
There are some great articles (with photos) by Canadian journalists and writers available, including:
Duane Radford's "Yukon Discovery Day in Dawson: singing, dancing and a barrel of fun"
Warren Perley's "Little Albert's whacky world of bullets, beatings and bad guys"
Margaret Somerville's "Ethics and law governing abortion must catch up with current science"
And, of course, mine: "Quirky, colourful characters emerge in winter tour of Yukon and Alaska." A little teaser…
A September snowstorm blew in the day we arrived in Whitehorse. Other tourists were fleeing as we arrived. Were we foolhardy 'outsiders' tempting Mother Nature's mood swings with a three-month car tour of the frigid North? The road sign as you enter the Yukon reads, 'Larger than Life'. We discovered that it refers to more than the scenery!
I was absolutely thrilled to learn that
Charlotte Gray
, my CanHist hero, was going to be in Edmonton this week as a guest of
LitFest
and
STARFest
. Last Saturday night she spoke at the St. Albert library to a room full of fans – one of the most responsive audiences I've ever encountered, in fact. They made all the appropriate noises at all the appropriate times during her presentation, and it was obvious they were smitten with her and her works.
The book up for discussion that night was her latest,
Gold Diggers
, which was published last year by HarperCollins Canada. I happily bought my copy for her to autograph, and it actually comes at the perfect time (which, I find, is often the case with books).  I just dove into my gold-rush-era material for my book on northern aviation – there was a balloon ascension in Dawson City in 1899 – so her tome will provide great background and description. Of course I'll still get out Pierre Berton's
Klondike
(after all, there's supposed to be a mention of the ascension in it), but it's great to have a more recent, socially-balanced tome to work with.
It was wonderful to finally meet Charlotte in person. She called me last November after I had Skyped-in to the
Berton House
Gala fundraiser in Toronto from Dawson. And we shared the same space at different times in Berton House, of course (and I made sure to put my book next to hers on the bookshelf!). But to get the chance to chat for a few minutes and shake her hand was, well, a highlight in this young historian's life.
Thanks, Charlotte, for continuing to convince Canadians their history is interesting and relevant, and for embracing the filth, messiness, lace, and rubber boots of the past. 
It's that time of year. The time of year when magazines, tv shows, internet sites, and everyone else make top ten lists. So I will too. About my time up north (although it's very hard to pick just ten!).
Here they are in no particular order:
1. Working, reading, watching tv, chatting, and napping at Berton House on the sectional snuggled up in the HBC blanket.
2. Experiencing ice fog in minus 40-degree weather in Dawson. Yep, I'm a little strange.
3. Doing the sourtoe cocktail with friends at the Dowtown bar in Dawson.
4. Going curling in Inuvik and hanging out in the curling club post-game. Best place in town on a Friday night!
5. Hiking up Dome Mountain in Dawson in December – and then sliding down on my backside!
6. Finding out I had family in Whitehorse and getting to spend great times with them. Thanks so much, Judy, Bruce, Ben, and Charlie!
7. Hanging out at Bombay Peggy's and being there for close-down on November 10th!
8. Doing old-timey portraits with the gals in Dawson: Easy-laine, Diamond Tooth Sandy, and Jailbait Jenny. Oh yeah, and I'm Dawson Dani (the one with the gun).
9. Visiting Old Crow and getting to attend a community feast. Such a friendly town and glad I got the chance to go twice!
10. Skagway, AK in September: delicious food, good hiking, and seeing that the Sarah Palin store actually exists!
With a week till I leave Dawson and the temperature at a balmy -15 Celsius, I decided yesterday I would climb Dome Mountain one more time.
I'd climbed the Dome twice before. Once with Doug when we first arrived in the Yukon in late September. It was -10 degrees, sunny, and there was just enough snow to make the powerline trail treacherous. The second time was late October. That time I took the road, which was slick, and didn't bring any snacks or water. An hour and a half in I decided to pack it in. But I memorized all the shortcuts…
This time I was prepared and had a plan. With a thermos of hot chocolate and snacks in my backpack, dressed in layers, with a lightweight hat/gloves for the way up (and heavy hat/gloves for the way down), I was determined to make it to the top.
I took the 9th Ave trail up to Crocus Bluff, then took the road to the first cut through (next to the creepy abandoned cabins). Somewhere around Pierre Berton Cr. two dogs joined me and escorted me all the way to the top, when they disappeared just as suddenly as they'd appeared.
It was snowing lightly the whole time – we've been getting a lot of snow here lately – and I realized how much had been accumulating as I made my way up the road. The first 1/3 was completely plowed. The middle section had about 2-3 inches on it. But when I got to the last leg, I wished I'd packed some snowshoes: there was at least half a foot of snow to trudge through.
I was determined, though, and even with hips and calves burning I made it. After a final sprint up the mound to the ice-encrusted bench, I drank my hot chocolate and surveyed my home for the past few months.
Then I started picking my way down the face of the hill toward the powerline trail. This time, however, it had enough fresh powder on it to cover all the sharp, stabby bits I'd been afraid of in September. So I let momentum take over from time to time, grabbed the bottom of my parka tight around my legs, and embraced the great Canadian winter pastime of bum-sledding!
Back on the 9th Ave trail I waved hello at the Parks Canada guys working on Robert Service's cabin, opened the door to Berton House – my house these past three months – and smiled with satisfaction.
Then I had a nap for two hours.
I love to walk, and since arriving in late September I've tried to get out and explore the town of Dawson (and environs) on foot as much as possible.
Heading out my door and across Eighth Ave I can join up with the
9th Avenue Trail
behind
Robert Service's cabin
, which links up to the
Crocus Bluffs
trail and up to the cemeteries on the hill. Apparently here you need to watch your step, as this sign indicates: "Please watch for open holes on fence line." Gotta plan ahead for the tourists (and writers-in-residence) that don't make it through the winter, I guess…
If you don't fall into an early grave, you can continue up Dome Road past side roads named for famous locals: Pierre Berton,
Dick North
, and
Jack London
among others.
Back in town you might end up in the alleyway between Second and Front St. where the recycling depot is. I love how the sign says it's closed holidays and -40…
Further down Front St. there's the Anglican Church looking out over the river. You might stop in here at the thrift shop on Tuesday and Saturday afternoons, but other days you'll just carry on, eyeing the ravens perched on rooftops, streetlights, and cleaning up after recess at the schoolyard. They seem pretty docile, but if you're anything like me you will think of
Alfred Hitchcock's The Birds
when you see more than two together.
Crossing over the dyke, constructed around the river to protect the town from seasonal flooding, you always find surprises. With so many artists and students in town for
KIAC
and
SOVA
there are sometimes rocks painted blue, red wine designs in the snow (with the bottle in the middle), or various other artistic offerings. I like this snow couple and their house the best so far.
If you need to warm up, the
SnakePit
in the
Westminster Hotel
is a good place, especially in the early evening Thursday-Saturday when Barnacle Bob is pounding out tunes on the piano (often accompanied by guitar and fiddle). But it opens at 9am, so you can pretty much drop in any time!
As you head north out of the Snakepit (if you happen to be there during daylight hours), you might stumble upon this piece of Robert Service wisdom… something to contemplate for the chilly walk home.
The Yukon has a long, distinguished history of bearded men. Images of hairy-faced fellas abound from the gold-rush era. There were many good reasons to grow a beard in those days: warmth, protection from the elements, plus it was a good place to stash gold nuggets…
Flash-forward to the 1940s and well-coiffed moustaches were the rage across the Western world. But 'up here' men were encouraged to grow a beard to support the "Days of '98" winter carnival. In the January 10, 1947 edition of the Whitehorse Star the following rules were shared:
1. Beards must appear below the mouth from January 1 to February 23, 1947.
2. Age limit: All men under 50 years of age must grow a beard.
3. All personnel in uniform are exempted due to regulations beyond our control.
4. All ministers are exempt.
5. All individuals handling food products are exempt.
6. Any others desiring exemption must present their case to the committee.
Part of this 'encouragement' was a Kangaroo Court – later the Keystone Kops – who went around trying and fining men without the requisite facial hair. Now the "Days of '98" festival has been replaced by the Sourdough Rendezvous each February in Whitehorse, but a beard-growing contest continues to be popular with the 20,000-odd folk who attend each year (and apparently non-bearded men can still be "fined").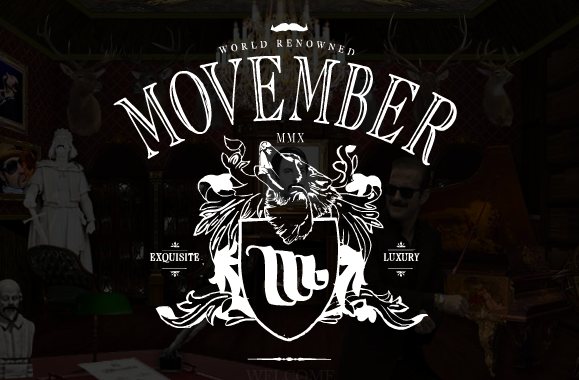 While it may be well into the negative numbers on the thermometer, many men north of 60 are foregoing their beards this month in support of Movember, a fundraiser and awareness-raiser for prostate cancer. Begun in Australia in 2003 over a few beers (go figure!) the campaign has spread like wildfire across the world and last year over 1 million donors raised $47 million for the cause.
On my recent trip back to Inuvik, NWT I was reunited with several friends – most of whom usually rock a beard or clean-shaven look.
Team Meximo
could possibly be the most northern Movember team in the world, and it is certainly one of the most colourful. Each decided to embrace a different stereotypical mustache and in this shot they had 'enhanced' their Mo's with mascara to intimidate their curling opponents.
They won their game, and hopefully their efforts will help researchers win the battle against prostate cancer, the type of cancer that affects men the most.
I proudly support the Movember campaign as a Mo Sista and encourage you to as well either by donating, fundraising yourself, or pasting on a moustache for a night of awareness-raising.
And while I can't enter the Sourdough Rendezvous's beard competition (despite local rumours after I won a beard trimmer for my cousin at the museum auction), there's always the lady's hairy leg contest…
Dawson may be known for the Klondike gold rush, Jack London, Robert Service, and Pierre Berton. But it has another claim to fame – the Sourtoe Cocktail – and last night I was inducted into the club as member #39600.

After dinner at the Drunken Goat we ambled over to the Downtown Hotel, home of the Sourtoe. We sidled up to the bar and announced to the bartender, a lovely aussie lady, that we were there for the toe. After steeling us with a round of liquid courage, our barkeep went into the backroom and emerged with a medium-sized wooden box. From that box, she removed a large dessicated toe from a jar of coarse-grain salt. And she put it on a napkin on the bar. In front of us.

We all looked at this salt-encrusted toe for a moment, remarking that it looked like a large dried date. Except if you looked closely you could see the toenail (my advice – don't look closely). The next step: selecting our liquor. It has to be over 40 proof and tradition dictated Yukon Jack, so that's what we did. Also, since it's 80 proof we figured we were twice as safe!
The other rule? The toe must touch your lips!
Elaine went first since she was desperate to get 'er done and over with. With a swift movement of the wrist she downed her shot and kissed the toe in one go. She was officially in the club!
Next up was Sandra – our friend's mother – who had just arrived in Dawson the day before. Our bartender removed the toe from Elaine's glass and placed the now-glistening appendage back on a napkin. Now it looked more like a sundried-tomato straight from the jar. Nevertheless, this farmer-rancher and liquor store owner from Alberta did us all proud. Another one joins the club!
Finally it was my turn. Glass of Yukon Jack in hand, toe in glass, audience in place I gulped it down, feeling the giant toe hit my lips (which were closed as tightly as possible since I'd heard one guy swallowed a past smaller toe!). Putting the glass down on the bar with authority, I tipped the Downtown Dick hat at my friends: I was now part of the club as well.
I'm still not sure what it is about humans that nearly 40,000 people would pay good money and travel to Dawson to do such a strange ritual. I know many folks think it's ridiculous. And it is. But it's fun – so join the club!
On Wednesday, October 13th, after a day and a half to do laundry and regroup in Dawson, I repacked my bag and headed out. Destination: Old Crow, the Yukon's only fly-in community.
Old Crow is not a hub of tourism. The group of us staying at Patti and Kenny's Ch'oo Deenjik Accommodations was pretty indicative of those that come to the Yukon's most northern community: there was me, a writer-researcher; Jeannie and Allen, early-childhood educators/entertainers from Whitehorse; and Joanne, who was in town teaching a session on videoconferencing.
I had never been to Old Crow before, but a quick look at Googlemaps convinced me I should probably bring some of my own grub. There was not going to be a Starbucks here! And while they do have a store in town, the cost of goods is so prohibitive (at least double the prices in southern centres, according to Indian and Northern Affairs Canada) that I was very happy to ration my granola bars, soup, and other foodstuffs.
A hike in sub-zero temperatures is probably not the best idea when you're on rations, but I felt very much out of my element when I first arrived in this remote community, and I often find going for a walk is a good way to settle in. So I left the warmth of the cabin and headed out past the end of the runway, and up a long, long road.
Along the way I passed all manner of cabins, signs, and animal tracks. This was my favourite, though – really brought me back to my grad school work at
UBC
, and the ongoing politics of contact relations. But the Yukon is a whole other context, and I'm learning by the seat of my pants… luckily I've been getting good guidance from the folks at the
Vuntut Gwitchin FN
(and hopefully soon the
Tr'ondek Hwech'in FN
here in Dawson).
A view from the top of Old Crow's "end of the road." You can see why the Vuntut Gwitchin call themselves the
People of the Lakes
. You can also see one of the most important waterways of the region, the
Porcupine River
snaking beyond. During my trip I heard stories of tens of thousands of animals from the
Porcupine Caribou herd
fording this river, but this year the herd has veered from its normal course and meat has been scarce.
Near the top of the road, though, I did come across a man who had just caught a straggler. We had a good chat and I was so impressed with how quickly he field-dressed and loaded the animal onto his ATV (which is the main mode of transpo in Old Crow aside from boats in summer and snowmobiles in winter). He did tell me, though, that a grizzly had been spotted in the area and I really shouldn't be up there without a gun.
Good to know. And time to high-tail it down the hill before Mr. Grizzly got scent of all that caribou blood!
The next day the sunny, relatively warm 'fall' weather (by northern standards) turned cold. Very cold. The kitchen heater in the cabin struggled to pump warmth into the bedrooms and midway through the night I decided to abandon privacy and open my door. And pile on the extra blankets…
Noon on an overcast, fall day.
The quality of the light "up here" continues to fascinate me.
As does the artistry of hoar frost.
During breaks from research at the
John Tizya
cultural centre, I wandered around, watching the river as it gelled in the cold.
I'd heard stories about northern communities supporting Pepsi and Coke products almost single-handedly. Here is one load of drinks coming in on the Air North plane (No pop for me, though: a can at the store cost $4 from what I heard). Soon my Old Crow diet was done and I was on the plane bound for Inuvik, with a great appreciation for this lovely community, its history, and its hospitality.
I really hope I get back soon.
I left Whitehorse for Watson Lake on Sunday, October 3rd – a perfect fall day by any standard. Driving down the Alaska Highway with the sun on my face, rocking out to my mixed CDs (not many radio stations along this stretch of road), life was good.
I was headed to WL for a few days of northern aviation research. I had a list of names, a B&B; booked, and a vague idea of visiting the airport. Beyond that, this usually over-prepared author was playing it fast and loose. Oh god, I'm starting to go northern!
I wasn't prepared for how lovely the
Laffing Loon Bed and Breakfast
would be: right on the lake with lots of room to spread out and make myself at home. Deb, the owner, and her little Bichon Frise were so welcoming, and I feasted each morning on her magnificent creations (and even one evening when she shared her batch of clam chowder with me!).
After the 4 1/2 hour drive from Whitehorse it was nice to walk around the property and stretch my legs. Then I went further afield, heading up the road where I just happend to spot a sign for a floatplane base. I would soon discover that WL is just like that: you trip over the aviation history there constantly!
The next day was beautiful as well and I crammed in as many interviews and visits as I could, finally finishing at sunset. Then I folded myself onto a lazy boy in the B&B;'s media room and watched a thriller about a writer who goes to a retreat and ends up being terrorized by ghosts… hmmm…. maybe not the best choice of movie for a writer headed up to a lonely retreat?
The time flew by in WL and before I knew it I was driving back northwest through wet snow with a notebook full of scratched-down interviews, leads for the rest of my time in the Yukon, and a couple of muffins from Deb's oven. After a rainy-snowy drive to Teslin and a long coffee stop in the Yukon Motel with a local aviation enthusiast, I dropped on my cousin's couch in Whitehorse.
Since coming to the Yukon I've been lucky to meet and hear some fantastic musicians. It may be a small territory population-wise, but it's big on talent in this writer's humble opinion.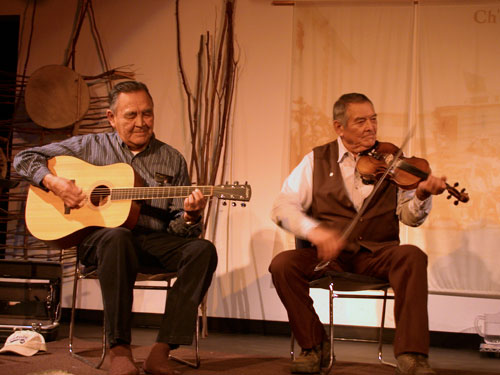 I met Gerald Edzerdza (on right) in Watson Lake when I interviewed him for my book on northern aviation. It turns out another of his loves is making music and this spry 80-year-old regularly travels for fiddling competitions and concerts. He gave me a copy of a CD – The Tahltan Fiddler, Vol. 2 – and it is toe-tapping fun! To order your copy you can write to him: Box 333, Watson Lake, YT Y0A 1C0.
My next musical encounter was in the Whitehorse Airport one chilly morning. I was on my way to Dawson, and this fellow was on his way to Old Crow as part of a series of house concerts (these are quite popular in the Yukon, apparently). We made half-caffeinated small talk and went on our way.
The next time we met was in the airport at Old Crow as I was arriving and he was waiting to board the plane back to Whitehorse. Turns out he is Charlie d'Acourt, who won top entertainer at last year's Music Nova Scotia Awards (and with good reason). His latest album, Bring on the Storm (2006), is an amazing collection of bluesy tunes (with a Maritime twist) that remind me of Jonny Lang in their emotional intensity.
This weekend, back in Dawson and under a full moon, I headed to the
Klondike Institute for Arts and Culture (KIAC)
to listen to Whitehorse rockabilly band,
Sasquatch Prom Date
.
It quickly became apparent that sitting still was not an option. Their infectious energy, fun original tracks (I Lost My Gal in the Yukon, Hillbilly Highway…), and great covers of classic tracks, got me up and boogie woogie-ing with my new friends from Dawson and beyond.
There were all manner of get-ups, a photographer on hand to take 'prom photos,' and a king and queen crowned (above). My favourite costume, I think, was one woman who had curlers in her hair, a face mask, and slippers on her feet. And then there were all the guys in pastel ruffled-front shirts!
Unfortunately I'd left my prom dress at home, but I did my best, trying to channel Olivia Newton-John in the later scenes from
Grease
: blue jeans, black shirt, big hair, and lots of makeup. Oh, and a touch of animal print (which coordinated great with the band's guitar straps!).
Last night, though, while listening to DJ Whitebread Soundwave at the Billy Goat Pub during the "Denim Dance Party" I donned my denim mustache with pride. I felt like I was channeling my inner Hercule Poirot (Now, where is my bowler hat??).
Like I said, it's a small place, but it's mighty grand!