I love to walk, and since arriving in late September I've tried to get out and explore the town of Dawson (and environs) on foot as much as possible.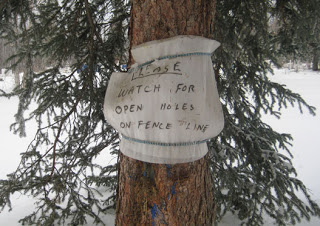 Heading out my door and across Eighth Ave I can join up with the
9th Avenue Trail
behind
Robert Service's cabin
, which links up to the
Crocus Bluffs
trail and up to the cemeteries on the hill. Apparently here you need to watch your step, as this sign indicates: "Please watch for open holes on fence line." Gotta plan ahead for the tourists (and writers-in-residence) that don't make it through the winter, I guess…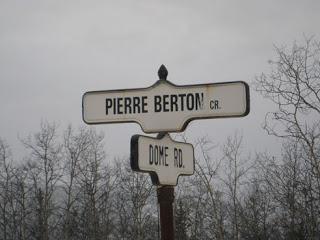 If you don't fall into an early grave, you can continue up Dome Road past side roads named for famous locals: Pierre Berton,
Dick North
, and
Jack London
among others.
Back in town you might end up in the alleyway between Second and Front St. where the recycling depot is. I love how the sign says it's closed holidays and -40…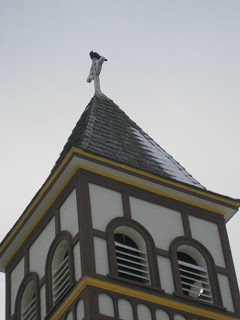 Further down Front St. there's the Anglican Church looking out over the river. You might stop in here at the thrift shop on Tuesday and Saturday afternoons, but other days you'll just carry on, eyeing the ravens perched on rooftops, streetlights, and cleaning up after recess at the schoolyard. They seem pretty docile, but if you're anything like me you will think of
Alfred Hitchcock's The Birds
when you see more than two together.
Crossing over the dyke, constructed around the river to protect the town from seasonal flooding, you always find surprises. With so many artists and students in town for
KIAC
and
SOVA
there are sometimes rocks painted blue, red wine designs in the snow (with the bottle in the middle), or various other artistic offerings. I like this snow couple and their house the best so far.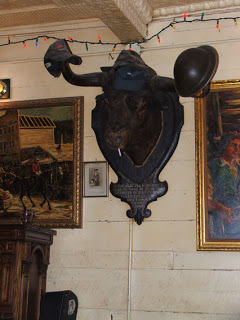 If you need to warm up, the
SnakePit
in the
Westminster Hotel
is a good place, especially in the early evening Thursday-Saturday when Barnacle Bob is pounding out tunes on the piano (often accompanied by guitar and fiddle). But it opens at 9am, so you can pretty much drop in any time!
As you head north out of the Snakepit (if you happen to be there during daylight hours), you might stumble upon this piece of Robert Service wisdom… something to contemplate for the chilly walk home.