When technology works it's a glorious thing.
No, the Writers' Trust of Canada hasn't managed to snag a Star Trek teleporter, but they did use Skype to successfully beam me all the way from Dawson onto a 15-ft screen at the Berton House Gala in Toronto last night – which, if you've had any experience with Skype, is nothing short of incredible.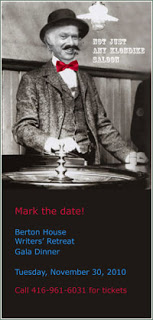 Apparently I came in loud and clear to the host,
Vicki Gabereau
(below), and the 200-odd attendees. And I could hear Vicki great too, but it was really eerie not being able to see anyone while I was up there on the big screen…
I was pretty nervous leading up to my interview, even if it was only to last a few minutes. After all, I used to watch Vicki's talk show all the time in university and have always admired her. I'd also heard I'd be following a slideshow by Charlotte Gray about her time in Dawson and her recently released book,
Gold Diggers: Striking It Rich in the Klondike
. Gulp…no pressure, eh?
I don't actually recall much of what I said – which is often the case when adrenaline and nerves are at play – but near the end I did gather my thoughts enough to give a shout-out to my wonderful mentor
Dr. Desmond Morton
(sketched below), who was in attendance. And I mentioned that I'd carefully squeezed my book in next to Charlotte's on the Berton House bookcase. Dorky, but true… and something about snowpants, I think. Double dorky.
The amazing thing is a few minutes after I signed off with Vicki my phone rang. And it was Charlotte on the line! Again, I was so starstruck I don't really remember what she said, but I'm pretty sure the phone call actually took place.
They also let me hang out on Skype afterwards, and I listened to a recording of Pierre Berton reciting Robert Service's poem,
The Shooting of Dan McGrew
, and
David Warrack
on the piano entertaining folks as they mingled after the program was done. It was quite magical, and if the people physically there enjoyed themselves half as much as I did virtually, the night was a smash success.
(Thank you Elsa, Nigel, Joel and the other folks who made my skype attendance possible!)