With a week till I leave Dawson and the temperature at a balmy -15 Celsius, I decided yesterday I would climb Dome Mountain one more time.
I'd climbed the Dome twice before. Once with Doug when we first arrived in the Yukon in late September. It was -10 degrees, sunny, and there was just enough snow to make the powerline trail treacherous. The second time was late October. That time I took the road, which was slick, and didn't bring any snacks or water. An hour and a half in I decided to pack it in. But I memorized all the shortcuts…
This time I was prepared and had a plan. With a thermos of hot chocolate and snacks in my backpack, dressed in layers, with a lightweight hat/gloves for the way up (and heavy hat/gloves for the way down), I was determined to make it to the top.
I took the 9th Ave trail up to Crocus Bluff, then took the road to the first cut through (next to the creepy abandoned cabins). Somewhere around Pierre Berton Cr. two dogs joined me and escorted me all the way to the top, when they disappeared just as suddenly as they'd appeared.
It was snowing lightly the whole time – we've been getting a lot of snow here lately – and I realized how much had been accumulating as I made my way up the road. The first 1/3 was completely plowed. The middle section had about 2-3 inches on it. But when I got to the last leg, I wished I'd packed some snowshoes: there was at least half a foot of snow to trudge through.
I was determined, though, and even with hips and calves burning I made it. After a final sprint up the mound to the ice-encrusted bench, I drank my hot chocolate and surveyed my home for the past few months.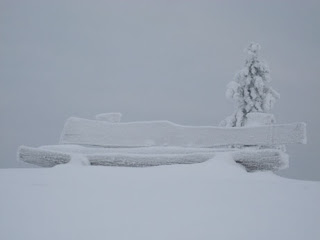 Then I started picking my way down the face of the hill toward the powerline trail. This time, however, it had enough fresh powder on it to cover all the sharp, stabby bits I'd been afraid of in September. So I let momentum take over from time to time, grabbed the bottom of my parka tight around my legs, and embraced the great Canadian winter pastime of bum-sledding!
Back on the 9th Ave trail I waved hello at the Parks Canada guys working on Robert Service's cabin, opened the door to Berton House – my house these past three months – and smiled with satisfaction.
Then I had a nap for two hours.