Since coming to the Yukon I've been lucky to meet and hear some fantastic musicians. It may be a small territory population-wise, but it's big on talent in this writer's humble opinion.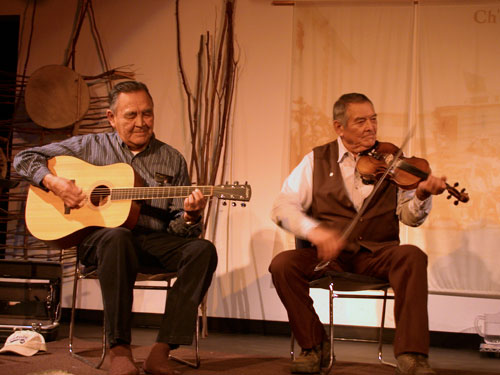 I met Gerald Edzerdza (on right) in Watson Lake when I interviewed him for my book on northern aviation. It turns out another of his loves is making music and this spry 80-year-old regularly travels for fiddling competitions and concerts. He gave me a copy of a CD – The Tahltan Fiddler, Vol. 2 – and it is toe-tapping fun! To order your copy you can write to him: Box 333, Watson Lake, YT Y0A 1C0.
My next musical encounter was in the Whitehorse Airport one chilly morning. I was on my way to Dawson, and this fellow was on his way to Old Crow as part of a series of house concerts (these are quite popular in the Yukon, apparently). We made half-caffeinated small talk and went on our way.
The next time we met was in the airport at Old Crow as I was arriving and he was waiting to board the plane back to Whitehorse. Turns out he is Charlie d'Acourt, who won top entertainer at last year's Music Nova Scotia Awards (and with good reason). His latest album, Bring on the Storm (2006), is an amazing collection of bluesy tunes (with a Maritime twist) that remind me of Jonny Lang in their emotional intensity.
This weekend, back in Dawson and under a full moon, I headed to the
Klondike Institute for Arts and Culture (KIAC)
to listen to Whitehorse rockabilly band,
Sasquatch Prom Date
.
It quickly became apparent that sitting still was not an option. Their infectious energy, fun original tracks (I Lost My Gal in the Yukon, Hillbilly Highway…), and great covers of classic tracks, got me up and boogie woogie-ing with my new friends from Dawson and beyond.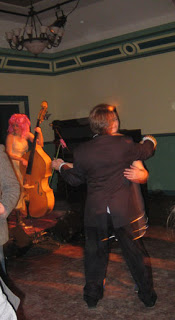 There were all manner of get-ups, a photographer on hand to take 'prom photos,' and a king and queen crowned (above). My favourite costume, I think, was one woman who had curlers in her hair, a face mask, and slippers on her feet. And then there were all the guys in pastel ruffled-front shirts!
Unfortunately I'd left my prom dress at home, but I did my best, trying to channel Olivia Newton-John in the later scenes from
Grease
: blue jeans, black shirt, big hair, and lots of makeup. Oh, and a touch of animal print (which coordinated great with the band's guitar straps!).
Last night, though, while listening to DJ Whitebread Soundwave at the Billy Goat Pub during the "Denim Dance Party" I donned my denim mustache with pride. I felt like I was channeling my inner Hercule Poirot (Now, where is my bowler hat??).
Like I said, it's a small place, but it's mighty grand!