Sorry for the silence but I've been in Scotland the past week and there was the pre-trip insanity before then! I really, really wanted to have the whole draft off to my editor before my departure, but that wasn't possible once I realized how long it would take to sort through 1200 photos and decide what went into the "must" and "optional" lists. It also takes a surprisingly long time to write captions…
In any event I managed to get four chapters off before I left, and then spent a jet-lagged morning editing chapters five and six once I arrived. After I finish procrastinating with this blog entry, I'll get down to fixing up at least one more chapter this morning 🙂
It's been fun being back in Scotland. The last time I was here was during my university exchange year in 2003-4 when I was living in Leeds, England. Of course Doug was on exchange that year as well – in Glasgow, Scotland – and so we spent quite a bit of time exploring the UK together. Not much has changed in the last few years, although it does seem much cheaper! It's amazing what a recession, having US dollars (versus Canadian ones), and not being a student can do for a budget.
Doug's living in
Livingston
, a suburb of Edinburgh, while he does his three months of training. Yesterday I did a day-trip in to Scotland's capital and hiked to the top of
Arthur's Seat
with my little trainers while clutching my purse. Then I walked up the
Royal Mile
, stopping in for one of the best bowls of soup I've ever had at this little cafe. In typical Eden-style, what started as a brilliant sunny day turned into drizzle and icy winds by afternoon, so I escaped into shops on Princes Street. The newest fad here is Western-style clothing, leather bags with fringe, and Little-House-on-the-Prairie prints. This, of course, made me laugh now that I live in Wyoming where those types of clothing would be seen not as fashionable but old-fashioned… Ah, but I have been enjoying rummaging through the sale racks at Oasis, H&M;, Monsoon, and Topshop.
A shot of the trek up Arthur's Seat

I've also been enjoying drinking my weight in British teas and beers. Not to mention tasting all the goodies I came to love while I lived here: Revels, shortbread, sticky toffee pudding, Cadbury's chocolates, curry, fish and chips. Yum!
Good thing I've been doing lots of walking and hiking the past week! Aside from Arthur's Seat and hoofing it around Edinburgh and Livingston, Doug and I also went on a nice hike while we were staying in Inverary. Our initial trek up to this little tower went too smoothly so we decided to head over to yonder hilltop – which led us through mucky terrain and clambering over slippery logs. It doesn't count unless you're wet, cold, and exhausted, right?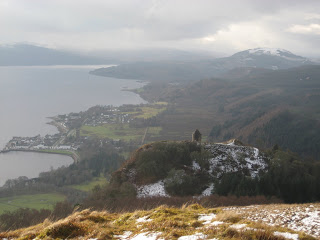 The view of Inveraray from our second hilltop
This hike occurred during our stay at the quaint Loch Fyne Hotel and Spa overlooking the picturesque loch. We weren't there during oyster season (too bad for Doug) but we thoroughly appreciated the view, the swimming area, and some quiet time together. Doug also took the opportunity to catch up on some much-needed sleep and relaxation. He was gone on his training job for about 40 of the previous 48 hours!
Tomorrow morning I'm heading south to England – more news of my adventures to follow!