There are a fascinating array of reality shows out there dealing with the vagaries of personal finance. My favourites so far include Gail Vaz-Oxlade as quirky yet hard-ass host of Til Debt Do Us Part and Princess (still haven't been able to catch the TDDUP Home Edition on HGTV since I gave up cable, though! Gail, are you proud??).
These shows have been my Finance 101 courses. They've taught me how great
compound interest
can be – except when you're talking credit card debt, of course. That 'negative equity' really is just sleazy car dealer jargon for 'debt'. And that if any of my friends talk about going to a payday advance place, I should tie them to a chair until the insanity passes.
Last night, staying in a hotel with cable, I stumbled upon a new show that goes to the opposite end of the budget spectrum:
Extreme Couponing
on TLC. Living in your own mini mart doesn't sound too appealing, and I'm really not sure anyone can ever use 1400 rolls of toilet paper. But the rush of getting $650 worth of groceries for $8.27? Or saving money on groceries so you can buy a
Coach
bag?
That
I get.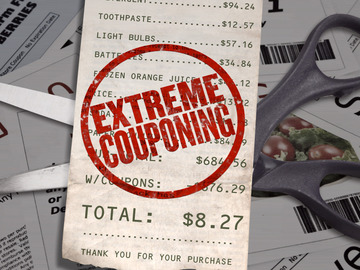 As a bargain hunter and
Kijiji
queen, I love the adrenaline hit of snagging a great deal. I also know this can be addictive, and am not surprised some of the show's subjects were one-time shopaholics who had to curb their spending due to a job loss or expanding 'litter' of children (the mom's word, not mine). Watching this show I couldn't help but wonder if they would soon be candidates for another of TLC's programs,
Hoarding: Buried Alive
. Even so, if apocolypse comes anytime soon, I want to be friends with one of these 'extreme couponers'!
I know I certainly have a touch of Princess in me, but I can balance it out with a healthy dose of reality – t.v. shows, that is.