We arrived safe and relatively sound in Rock Springs on Sunday afternoon after what seemed like the longest four hours of our lives. In 2005 when we drove cross-country to go to grad school in Vancouver, BC we experienced similar feelings of excitement and trepidation on the last leg of the trip. At least back then we had an apartment lined up (albeit we had only seen photos online) and we had been exposed to so many images of Vancouver that we had a pretty good idea what we were in for topography and climate-wise.
Driving the I-80 between Cheyenne and Rock Springs doesn't inspire the greatest of confidence in the traveler. This is pretty wild, desolate country out here: in many places there are great long snow fences lining the Interstate and we came across quite a few "if lights are blinking the highway is closed" checkpoints. Apparently Wyoming gets very windy and in the wintertime the light, dry snow can be buffeted around by gales of over 70mph (112 km/h)!!! That's faster than we could get the Uhaul to go if there was any kind of incline!!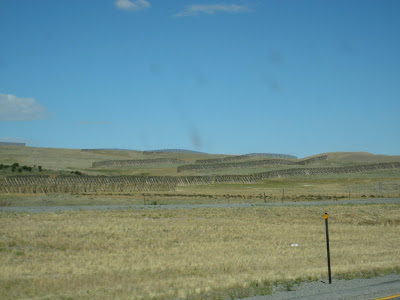 That 4-hour trip also illustrated why Wyoming is the least-populated state in the Lower 48: other than a few towns/small cities like Laramie and Rawlins, we saw next to no signs of habitation. We did have the chance to stop in the hamlet of Elk Mountain when the gas-guzzling Uhaul swallowed up the last of its fuel. It seems the local gas station was where all the locals hang out and Doug overheard a particularly amusing conversation.
An older man was telling a younger man about his most recent find on a garage sale-ing trip. "It's a grabber and I got it for 25 cents," he said with a drawl.
"What's a grabber?" His young companion asked him.
"It's a stick, with a claw on the end for grabbing things." The older man patiently explained. "You can pick stuff up without bending over."
"That sounds like it would be good for fishin'." The young man considered, scratching his chin.
"Yeah, you could pick up some fish with the grabber."
So now of course Doug and I are always thinking of things we could use a grabber for. I'm still not sure if it would solve all our problems, but it sure sounds useful!
(Not necessarily the exact model of 'grabber' the Elk Mountain gentleman bought, but it gives you the idea!)