After a month of being solidly at my desk and Doug being off on jobs constantly, we decided to make a break for it last weekend. He had a few days off and I was feeling on top of my work and unable to do any more editing without a brief change of scenery. So, we packed the dog off to the vet's (for boarding, not the little blue needle – although there were days when he woke us up so many times during the night the latter was contemplated!), packed the car full of recycling and our bags, and headed off to Utah.
We stayed at the
Homestead Resort
in Midway, nabbing a good deal on
hotwire.com
, the website where you book your accommodation before you get to find out where you're staying. The Midway-Heber-Park City region seems to be full of very overpriced places – Aspenization has taken hold – so we were having a tough time finding good shoulder-season discounts. Hotwire to the rescue!
The Homestead was a Dirty Dancing-esque resort on the edge of a golf course, with lots of family-friendly activities, and I'm sure a Patrick Swayze type instructor to delight the bored housewives. It sounds as if it would be absolutely insane in the summer and even on this late March weekend the pool area was teeming with children. We managed to escape them most of the time, though, and there is a
crater
on site filled with bath-temperature mineral water. I went swimming (with a very uncomfortable flotation device!) and Doug got to go on his first scuba diving adventure in over a year.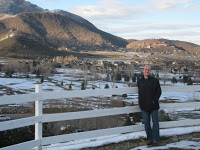 Doug standing on top of the Crater at the Homestead Resort
We nicknamed our accommodation in the "Milk House" the "Hotwire Hobbit House" because it was this teeny building with three rooms, one of which was ours. Add in the doilies for curtains and the country-chic bedspreads (but subtract the silk flower wall hanging, which quickly got shoved in the closet) and it was definitely a little hokey. And people pay over $140/night for this room in the high seasons!
On an extended scenic tour around Midway-Heber we stopped in at the Race Horse Lane Boutique, which was pretty neat – although the sales lady started talking about how they should start drilling in national parks, which seemed a little strange considering I just wanted to buy my "Shopping is cheapter than a psychiatrist" nailfile and chick-lit book. Let's keep it light, lady!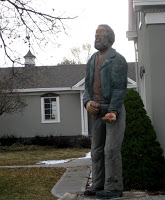 I call this fellow the "Midway Man" – no idea what he's doing or why he's there!
We ate very well over the weekend, which for two foodies like Doug and I is the most important thing. There were the banana-granola pancakes one morning, the wood-fired pizza at the Cafe Galleria in Midway, and the onion rings and veggie sandwich at Red Rock Brewing Co in Park City. The piece-de-resistance, though, was the Snake Creek Grill in Heber which looks a little tourist-trappish from the outside but rivals some of the nicer restaurants I've been to in Vancouver, Montreal, and Ottawa. Delicioso!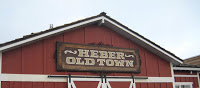 Of course good food demands good beer, and we sure found some along the way. At Red Rock Doug tried the Abbey Ale (which we swear tastes a little like a peanut butter and banana sandwich) and on another visit to Park City we had the Oatmeal Stout and home-made Root Beer. The winner for best and most provocative brew names, though, goes to the Wasatch Brew Pub on Park City's Main St. There you can sample Polygamy Porter, Evolution Amber Ale, and others that poke just a bit of fun at Utah's Mormons and right-wing Christians more generally.

Even with a teensy snowstorm, we had a great escape and are looking forward to our next one. In the meantime, though, it's back to my desk for the final two weeks of editing and indexing before the book goes to the printers!