Doug had another set of days off last week, but after a bunch of long-distance, long-haul travelling and a particularly gruelling "hitch" (days on), we decided to go the "staycation" route and hang out close to home.
This turned out to be a good thing since here in Southwestern Wyoming we got hit by a week of frigid temperatures and a couple of decent snowstorms. So we hunkered down, got stuff off of our to-do lists, and tried to generate body heat at the gym (where snow was blowing in under doors).
During the two-day clear weather window last week, though, we did head out to Park City and Salt Lake City, just across the state line in Utah. The roads were good, our Visa was paid off, and the sales were on at Tanger Outlets, so we left Riker at the kennel and drove west.
2 1/2 hours later we were in Park City right as the outlets opened and were the first through the doors at Columbia. We blitzed through a couple of stores, loading up on cold weather gear like snowpants (Doug got his for $18!) and a knee-length down coat to keep my thighs from freezing when I walk the dog. Then we headed over to the
Red Rock Brewing Co
. where both of us immediately zeroed in on the Kobe Burger on the specials board. I tell you, every once in a while I think I should go veggie, but it is meat-a-licious meals like this that keep me from it (I did keep my fingers crossed that it was ethically raised and slaughtered and said a little thank you to the cow that gave up its life. Mostly I thanked it for being so delicious, though…).
After lunch we drove to Salt Lake City to check out
spinning bikes
at a couple of fitness equipment stores. Some of you may recall that a few months ago I was a little afraid of group cycling classes (aka Spinning). Well, I have been converted to this awesome workout that now regularly kicks my butt. And Doug decided that indoor training might be preferable to risking life and limb on the icy sidewalks so we started talking about a home gym for the new place in Edmonton. Treadmills are too noisy and crap out more quickly because of the beating they take (makes you wonder about your knees!) and ellipticals are large and very expensive. But with our budget we could get a pretty good mid-level spinning bike that will likely last 10-15 years because of the activity's low-impact nature.
We'd found some pretty good deals online but wanted to actually get on the bikes to check them out. So we stopped in at two places in SLC and were immediately icked out by the used-car-salesman vibe we got from the people there. So we decided to go for the person-free transaction of online shopping and free shipping to our doorstep. It's supposed to arrive in a week or so – review to follow!
The main reason for stopping in SLC was to get the Mini brake pads checked out. The light had come on a few weeks before but everything seemed fine, so we just kept driving it until we had time to make it to the Mini dealership 300 miles away. Another reason I can't wait to move to Edmonton: there Mini is right in town!
$400 later our rear brake pads were fixed and we were ready to drive back to Park City to check in to our hotel,
The Yarrow
. We'd booked it through hotwire.com, our go-to for killer deals on hotels and for $70 it was more than decent. My only complaint is that they'd had the heating turned off in our room and so it was probably hovering around 10 degrees when we arrived.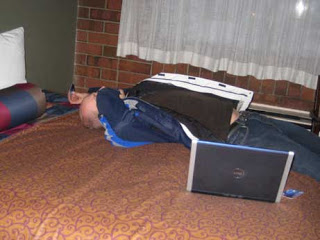 This wouldn't have been such an issue if we could have just turned on the heat and headed out to dinner, but our Visa had been declined at the front desk and so Doug wanted to figure out what was going on before eating. Well, that turned out to be a huge hassle (which it tends to be when the Schlumberger Employee Credit Union is involved). Thirty minutes later after calling multiple phone numbers and only being able to get through to a live person after saying "help" repeatedly (and pitifully) into the handset, we were both ready for a stiff drink.
Instead, we ended up walking uphill in snow into a stiff wind on Main St. But it was all worth it when we arrived at the
Riverhorse
. It was decorated in a sparkling, festive way and had classic holiday tunes playing. The staff was attentive, knowledgeable, and most importantly, the food was amazing. The chef sent out an amuse-bouche just as our glasses of red wine arrived. Then came the cranberry-walnut bread from a local bakery. We decided to share the appetizer sampler: smoked salmon on crunchy potato latkes, chicken satay skewers, and to-die-for goat cheese wontons. Doug's lamb was perfectly done and his butternut squash and fig risotto – heavenly. My pear/praline/blue cheese salad was also incredible and then we topped it off with a warm apple and toffee cake. It sounds like a lot of food (okay, it kind of was – hence the spinning bike), but the portions were just perfect. Unlike so many restaurants these days, the Riverhorse really focuses on quality over quantity!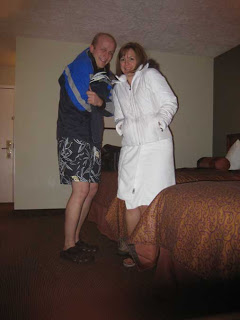 Pleasantly full, we endured the cold once again until we got back to the room, now warm. The hotel boasts a heated year-round swimming pool and hot tub, though, so it wasn't long before we squeezed ourselves into swimwear. While there is nothing quite as nice as sitting in a hot tub when it's chilly outside, it is also true that stripping down and getting to said hot tub when it's
-20 is probably one of the worst! Nevertheless we did it, loved it, and Doug showed off for the other patrons by periodically getting out and rolling in the snow…
Friday we got up early (okay, I got up early and bullied Doug into waking up) and went to the hotel's restaurant, the Mountain Grill, for breakfast. It was pretty chilly in there too, but we snagged a seat near the fireplace and by the time we tucked into our carafe of coffee and our breakfast skillets, we were warm and happy.
Then we split up – Doug to Best Buy and other places and me to the outlets to continue my hunting. By noon our budgets were exhausted and we were hungry again (Again?!!). I'd read about a neat-sounding restaurant called the
Hapa Grill
, that did a Japanese-Thai-Hawaiian fusion, and it exceeded our expectations. The Miso soup was fantastic, our fried calamari with Hawaiian salsa exquisite, and the California roll scrumptious. Doug also ordered a wrap he only got halfway through that was tasty (and spicy!) and the fries that came with were awesome. Surprisingly they really do it all!
Our last stop on our foodie adventure was to pick up supplies at Whole Foods, a supermarket that specializes in organic and yuppy-hippy foods we love. Our neighbour had given us a shopping list as well, and we managed to drop a pretty penny on curry stuff (that we shared with friends the next night) and some goodies for our own personal Christmas celebration later this month. I feel like I already got my presents, though!