This weekend was Alberta Arts Days, the time of year when the Texas of the north proves to the rest of Canada it is not a cultural sinkhole. That it is more than just tarsand and delicious beef.
Actually, I don't think the province cares what the rest of the country thinks – they do this for the sheer enjoyment of it.
And there is plenty to be enjoyed. Friday evening I was sipping wine and noshing at the Telus Centre Atrium at U of A while listening to several Governor General's Award-winning authors. The Canadian Literature Centre sure knows how to host adult storytime.
First to read was Greg Hollingshead who chose "The Appraiser" from his collection of short stories, The Roaring Girl. I got the chance to chat with Greg quite a bit and I'm sure our paths will cross again at the Banff Centre, where he's director of the literary arts program.
Next came
Gloria Sawai
, who read "The Dolphins" from
A Song for Nettie Johnson
.
Finally
Rudy Wiebe
took to the podium, reading excerpts from two of his novels,
The Temptations of Big Bear
and
The Discovery of Strangers
.
One of the best parts of the night was meeting Carol and two of her book club buddies, who are a writer's dream: intelligent, generous readers who just adore books. I can only hope that someday my fiction falls into hands like those. And that one (or more?) of my books ends up in the hands of generous GG Awards jurors!
* * *
Sunday afternoon I braved the cold and rain to attend the launch of the
Writer's Guild of Alberta's
Isabel Miller anthology. In this case I was the juror, and it was such a pleasure to meet the talented young writers I helped select for this anthology and for the writing competition's top prizes.
It was standing-room only in the
Stanley Milner
library, as winners and family members (and a few curious members of the public) gathered for the event.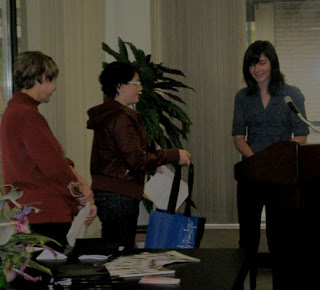 After several readings by honorable mentions, third-place winner Sabrina Dahl, 14, read her "exquisitely simple" poem, "The Dancer."
Next came Laura Hon, 15, who won second place with a "devastatingly true" short story, "Good Enough." Her reading brought several sniffles to the audience…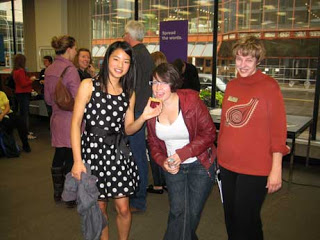 Here is first-place winner, Stephanie Li, 17, who penned a riveting short story called "What Comes Between" about a war photographer during the Vietnam War. Next to her (about to eat her cookie) is Erinne Sevigny, Edmonton teen writing group mentor for the WGA, and Rita Espeschit, WGA Program Director.
You can get the whole anthology online by clicking
here
.