Friday, September 10th:
Left Edmonton at 7:30am. Hit some construction on the Henday and missed my turn. After a short detour back on the road. Stop in
Edson
for Tim Horton's breakfast sandwich combo.
Doug at trailhead. Used
Don't Waste Your Time in the Canadian Rockies
hiking guide to choose Trip #123: Beaver, Summit and Jacques Lake. It had a very good shoulder-season rating, promised to be easy, and wasn't too far away from where we'd be staying.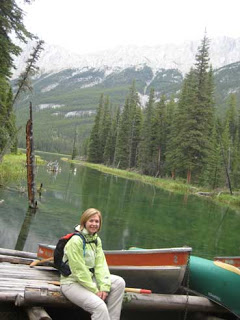 Me chilling at Beaver Lake after an easy 2km walk on a well-groomed trail. These boats were locked up, but apparently you can rent them and hang out on the lake.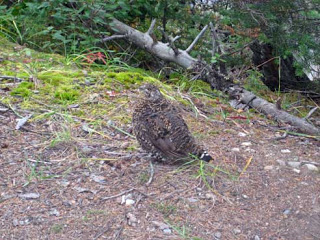 A bird – a female
Spruce Grouse
, I think – Doug almost stepped on it was so well camouflaged. Could also throw it's voice – we heard a call but thought it was up in the trees someplace!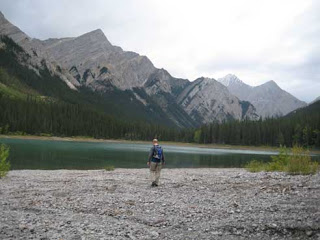 Another few kilometers and we reached the First Summit Lake.
Judging by these animal prints (my guess is moose) we weren't the first. Also saw quite a bit of
bear scat
on the trails but the only aggressive creature we encountered was an irate red squirrel.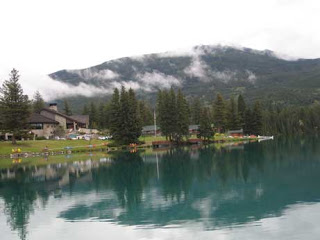 After our hike we headed to our accommodations for the weekend – the rustic but luxurious
Fairmont Jasper Park Lodge
(think of the most expensive log cabin you've ever stayed in). But, for those who read my last post, you'll know I got the whole weekend
romance package
for $495 on Kijiji!
For dinner we headed into town to the
Jasper Brewing Co
. and I was a little disappointed by their beers. Doug got the sampler and we agreed that compared with
Brewster's
,
Granville Island
, and many of the other microbreweries we've fallen in love with, they just didn't measure up. The food was great, though, and Doug's fish n' chips were served in a bucket, which was awesome. My yam fries and salmon on ciabatta were pretty darn tasty too!
Saturday, September 11th:
Back into town for breakfast at the
Bear's Paw Bakery
. We each had one of their world-famous sticky cinnamon buns and an Americano. Can't wait to go back to try their muffins, and scones, and cookies, and…
Doug went off to play a rugby game in Edson and I went for a hike around Lac Beavert (aptly named for its pretty blue-green water) to wear off breakfast. Chatted with the other folks I encountered on the trail, including a European woman who was 'shore support' for her scuba-diving husband in lake, and lots of Brits.
Nearing home I crossed paths with another woman and said cheerfully, "Looks like we're going to get some sun after all!" I guess my guttural Canadian English and Germanic looks threw her because she responded in a thick 'Souf London' accent: "It's Guten Tag, itn't it?" "Yah," I said, and kept walking.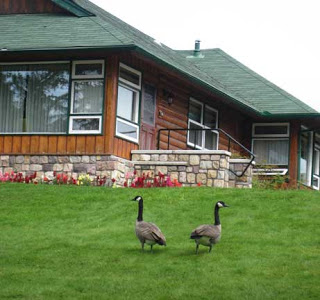 Doug got back in one piece and we went for our Fairmont dinner at the
Moose's Nook Northern Grill.
Great service, amazing food, and with my kijiji deal the price was right. Appetizers: scallops with ancho pepper and caviar. Entrees: Beef Tenderloin with potato/lobster risotto and mushroom/asiago ravioli. But the desserts were the standouts: barrista sampler (espresso ice cream, mille feuille, and creme brulee), chocolate-dipped strawberries, and the caramelized banana martini (heaven!).
Sunday, September 12th:
The next morning we had our final part of the romance package: breakfast in our room. I never thought I'd be able to eat again after the night before, but when that brioche French toast arrived with vanilla-scented whipped cream and
Saskatoon berry
compote, I gave in. And Doug's west-coast eggs benny (smoked salmon on a crab/chive/potato cake) wasn't bad either!
We'd intended to do a hike on our way back Edmonton but it was pouring rain… so we made a beeline for home, picked up the dog, and had a nap.