Yesterday morning, Doug and I and Riker headed out in Ellie for Adobe Town, an amazing geological formation in the Red Desert about a two-hour drive south-east from our house. Armed with GPS maps, our camping gear, and about 5 gallons of water the plan once we exited the I-80 was to take the Bureau of Land Management (BLM) roads and then take the jeep track as far as we could along Skull Creek Rim.
In our research, we had read that any rain could turn the roads into impassible quagmires. May and early June were among the wettest on record here and even though it's been mostly sunny the past few weeks, we have had some wicked afternoon thunderstorms. This meant there were some puddles and some mud. For the most part I managed to keep us going, but partway up the jeep track we got stuck and Doug had to do some pushing. He got us out, though, and we parked in a nearby dry spot and decided to start our hike a little earlier than expected.

Strapping on our 20-lb packs (complete with tent, canister stove, sleeping bags and pads, water and food) we headed out over the sage brush grassland, wondering if Adobe Town actually existed or if we were already lost. You see, it's an ancient river basin, so when you're driving or hiking along the high plateau you can't see it until you're almost upon it.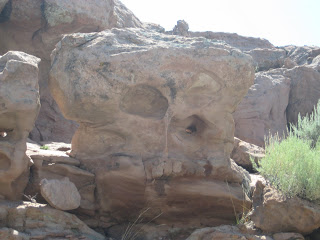 I came upon this skull-shaped rock when we took a break about an hour into our hike. Maybe it's why the area is called Skull Creek Rim?

Below is a greater short-horned lizard that gave away its position when Doug walked over it. Adobe Town is a proposed wilderness area in Wyoming and one of the reasons for this is its abundance of wildlife. We saw wild horses,
pronghorn antelope
, and heard a multitude of songbirds (that quickly went quiet when a large bird of prey circled overhead). Apparently there are lots of other species hiding out there as well but were smart enough to hide from the scorching sun.
Not so for us. Our original plan had us stopping for a couple of hours at midday in a shady spot or in the tent, but we were swarmed by great hordes of biting
midges
every time the wind died down. So there was no rest for us or we would succumb to madness. After hiking about 6 km we were at the half-way mark to our proposed camp site at East Fork Point. With rain clouds threatening to the southwest and no relief from the midges in sight, we decided to call the trip and head back to our vehicle.
This 13-km (8 mile) power march from 10:30am to 3:30 p.m. (i.e. hottest and sunniest part of the day) was exhausting and we were disappointed at our second bug-infested trip in what is supposed to be one of the least buggy States in the union. If we had known we wouldn't be overnighting it, we also could have drastically reduced the amount of weight we carried on our hike.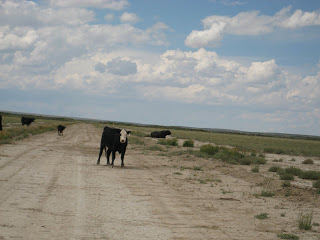 Doug made it back out through the mud but these cows threatened to block our way (there are still a couple of active ranches in the area but oil and natural gas companies are rapidly encroaching). By dinnertime we were back home, sunburned, sore, and midge-bitten but still confident that someday we will combine a hike and camping trip in one!
p.s. Doug and I subscribe to Backpacker magazine and they did a great feature last September on Adobe Town. Click
here
for the article.