I am sitting here trying to think of how to start this post. Staring at my hands poised above the keyboard I see various shades of paint, the bit of subfloor still lodged under my fingernail, and the cuts and bruises from banging into things like walls and pry bars.
These are not the hands of a pampered writer/historian. These are the hands of a labourer.
And I certainly look and feel more like a contractor these days. I spend more time at
Home Depot
than the library. More time up on a step ladder than at my desk. I long for the days when my biggest occupational hazards were paper cuts, strained eyes, and carpal tunnel syndrome. Now I'm dodging shrapnel from ceramic tile as I chisel it off the wall, lugging pee-stained carpeting to the dump, and keeping the pets away from home improvement hazards ("No, Riker! We don't play fetch with carpet tack strips!")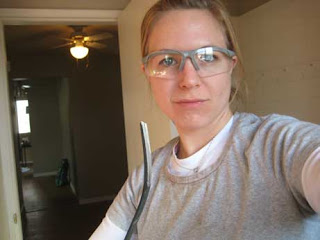 After months of watching those home reno shows on HGTV I've decided they've been holding way back on me. Through the magic of tv no one ever gets their clothes dirty or swears their head off when frustrated (I guess I sound like a contractor too!). I believe they are in a conspiracy with Home Depot, Rona, Home Hardware and all those other stores out there to help the DIY-er with 'easy and fast' projects.
But while it may not always be fun, fast or easy, it can certainly be satisfying. I have fallen into bed exhausted most nights – once at 6pm! – but with a feeling of accomplishment: "Here," I can say. "I put down 9 boxes of laminate flooring today." Or "I learned how to patch drywall."
At the very least, it's good to have a whole new "hard" skill set to supplement my "soft" writing ones. And the callouses to prove it.