In the 15 years since NASA predicted Jupiter would be struck by a series of large meteors and comets, no Jovians have appeared on Green River's doorstep.
The welcome mat is out, however, as Dina Mishev wrote in her 2007 book, Wyoming Curiosities: Quirky Characters, Roadside Oddities & Other Offbeat Stuff (Global Pequot). On July 5, 2004, perhaps still buoyed by Independence Day celebrations, former mayor George Eckman and the city council passed resolution no. R94-23 "allowing any citizens of Jupiter to take sanctuary in their town." The resolution was passed five votes to two and the Greater Green River Intergalactic Spaceport was born.
As the resolution reads: "All residents of the City of Green River [should] be encouraged to observe this momentous event and prepare themselves to make welcome any refugees who might cast themselves upon our mercy."
Mayor Eckman told the Rocket Miner after the resolution had been passed, "I feel it is a gesture that could be made and should be made by someone on the planet Earth to fellow citizens of the solar system."
No Jovians – or any other extraterrestrials, for that matter – have taken the community up on its offer. It might be just as well, however, as those opposed to the resolution noted that Green River was already facing a housing crisis and council members wondered how the newcomers might integrate into the local workforce.
Nevertheless, you can still visit the spaceport just south of Green River on route 530 toward Flaming Gorge National Recreation Area, or virtually by selecting it as your airport in the Flight Simulator computer game. To learn more about the spaceport, you can ask for Dina Mishev's book (https://www.dinamishev.com/) or Images of America: Green River, written by local authors Terry Del Bene, Ruth Lauritzen, and Cyndi McCullers, at the Sweetwater Libraries.
The only evidence that this strip of desert might be for aircraft is the solitary windsock.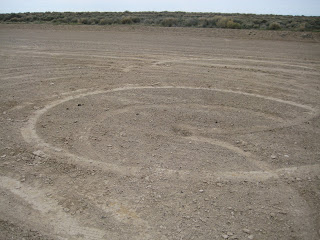 Could these markings in the sand have been made by anything other than
joy-riding teenagers? I wonder….