Last December I woke up one day and realized I was out of shape, out of excuses, and out of patience with myself. So I decided to do something about it. I already knew the basics of being healthy: eat a balanced diet and get off your butt. I still did a ton of research, signed up for some online accountability aids (sparkpeople.com) and came up with a strategy.
Here is a photo essay of my journey back to health and well-being.
Spring 2007 in Vancouver. I was still in grad school and in terrible shape physically, emotionally, and mentally. I wasn't happy about things, but I wasn't committed yet to changing my lifestyle.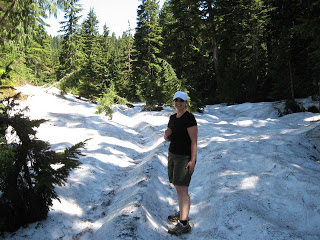 July 2007 north of Vancouver. After crying on my first hike that year, I started to walk more so I wouldn't be so unfit. Not making all the necessary changes yet or setting any concrete goals.
January 2008. A few weeks after I really committed to changing my lifestyle Doug and I headed to the beach in St. Lucia for our belated honeymoon. I had been working out religiously, tracking my food, and I was down about three pounds.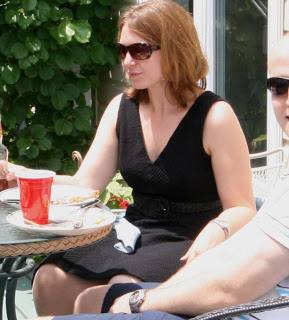 July 2008: By this time my lifestyle changes were set in stone. I had stopped tracking all my food and drink because I had internalized it ("stop eating when you're full." "Are you really hungry or is it something else?" "Eat 4-5 veggies and 3 fruits a day" "Drink lots of water"). I had snowshoed throughout the extended winter, done circuit training to increase my strength, and once the snow melted I started walking. Then I began a walk-to-run program so that by October's CIBC Run for the Cure, I'd be able to complete 5km. I was down 25 pounds (my initial goal).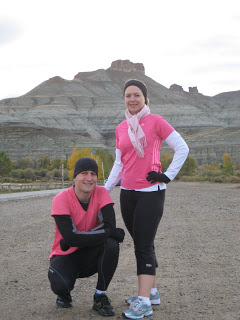 October 2008: I had just completed the 5km run without difficulty and was holding strong to my new habits, even though life threw plenty of obstacles in my way. Down 35 pounds.
(if you go to this website you can create a virtual model of yourself at your current weight and your goal weight. Plus you can try on clothes, etc).
This is "me" now – down 40 pounds and still going. I have my new workout buddy, Riker, who makes sure I get out for at least 1 hour of walking a day. I've also promised him that I'll get a bike this spring and that I'll take him along on hikes and camping trips. I'm also doing pilates which helps with flexibility and strength.
Most of all, I'm taking care of myself. I eat good food that fuels me, I don't drink too much, and I get lots of rest. I even take my multi-vitamin, which should make my parents happy! 🙂