If you've been keeping up with my posts, then you know that my friend, Anna, was here visiting last week. Anna is from Canada: she grew up in Ottawa, we met in Montreal, and she's been living in Edmonton the past year. In short, she knows winter, and knows how traveling in winter can be a bit of a gamble.
She has also travelled extensively in Latin American and lived off and on for a year in Africa (Kenya and Mali) doing AIDS research and treatment-related projects for her Master's in Public Health Policy. In short, she's had to deal with travel SNAFU's in rural areas of developing nations.
Apparently Wyoming combines the 'worst' of all these experiences.
Last Saturday I left the house for Rock Springs early in the day to volunteer at the Humane Society's Santapaws event. I looked out the window at one point and saw it was snowing so asked someone what it was like outside. "Oh, it's just wet on the roads," he said. Within a few hours our customers had dwindled and people were talking about cars sliding through intersections. Apparently the temperature was dropping and any precipitation was turning directly into black ice.
At 4pm I got into my car and cautiously headed back to Green River. I never got above 60km/h (half my normal speed on the I-80) because I was concentrating so hard on staying in the dry grooves between ice patches so that I might stay on the road. Tractor trailers and other vehicles were whizzing by me in the left lane, and I was worried one of them might spin out and hit me but luckily that didn't happen. I did notice a tractor trailer completely totalled in the ditch, though, and was so happy I hadn't been on the road when that happened! [read Green River Star article "Winter Weather Brings Crashes"]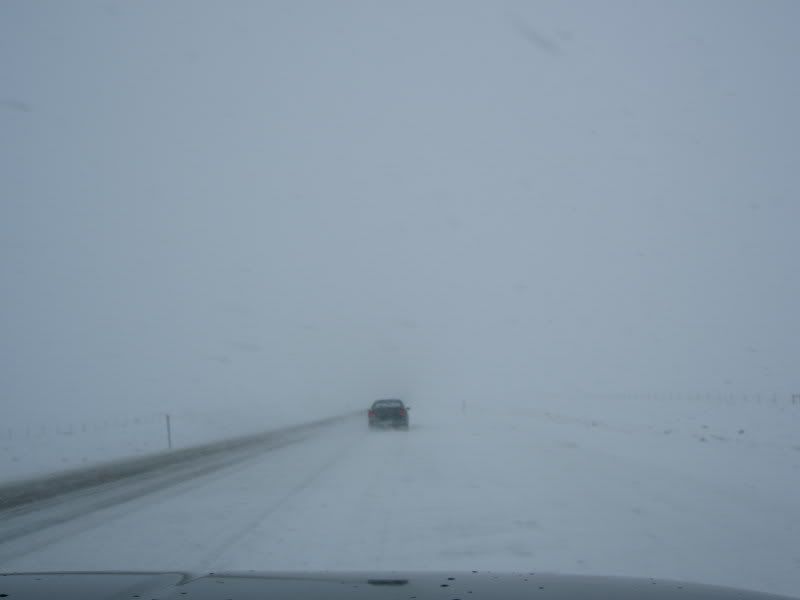 Someone else's fun experience on the I-80 in winter conditions
When I got home, completely exhausted, I told Anna how bad the road conditions were. After checking the net, I also discovered that Salt Lake City was in the middle of a winter storm warning. I told Anna I wasn't sure I would be driving her to SLC if this kept up. A resourceful traveller she said that was fine and checked into the Greyhound bus. According to the website it left from Rock Springs at 6:35pm and arrived in SLC at 10pm. Sounded good.
So we headed into Rock Springs Sunday at 3:30pm to try and get her ticket ahead of time to discover that the Greyhound 'offices' are closed on the weekend – so you'd just have to wait outside in the freezing cold to catch the bus. There was a sign in the window, though: "If the bus don't come, its cause of weather. Call SLC." (I heard this with a red-neck accent in my head, personally.)
Okaaay. So Anna's worried now and not trusting the bus system much with good reason: after trying to talk to multiple people on the phone, she received varying departure and arrival times and no one seemed to know if the bus had left Denver en route to Rock Springs. If you asked Anna after getting off the phone, I think she'd have told you they didn't know their heads from another part of their anatomy!
So she decided to rent a car and drive herself instead. We stopped in the local Holiday Inn and borrowed their yellowpages and phone. We discovered that because it wa Sunday only the rental places at the airport were open. Anna didn't have any luck on the phone there, so we head back to my place for a marathon phone session of calling every single rental place in Green River and Rock Springs. It turns out that a) 75% won't do one-way rentals (even if they have offices in Salt Lake City and b) no one had any cars anyway because there had been so many accidents over the weekend that all the cars had been rented by people whose vehicles were in the shop.
After hearing this I was really not going to drive my little Mini Cooper on a 5-hour round-trip on the truck-full I-80 to Salt Lake City! So I suggested she change her itinerary and fly out of Rock Springs, because at least we knew the roads around here weren't horrible. After being on hold for far too long with United and Expedia, Anna finally had a new itinerary (which only cost an additional $250 or so – about the same as a Greyhound, taxis, and hotel would cost in SLC). Monday morning I drove her to the airport, made sure she was able to check in and get through security – because with the way things were going I wasn't too confident in anything!
Anna couldn't believe the amount of hassle she had to go through just to leave Wyoming. She told me, "I expect this kind of thing in Africa, but at least there there is always someone who wants to make some money and is willing to chauffeur you to wherever you want to go. And if it doesn't work out, I just say TIA – This IS Africa."
Well, everyone, This Is Wyoming.
*We just got a bunch more snow this morning and it's been super cold the last few days. Check out the Rock Springs I-80 webcam on the WYDOT website: https://www.wyoroad.info/highway/webcameras/I80RockSprings/I80RockSprings.html