Nothing says summer like an outdoor music festival, so when I heard there was a FREE one nearby some friends and I piled into a car and headed out for the afternoon. The Oyster Ridge Music Festival (known by those in the know as Oystergrass) is a three-day annual festival in Kemmerer, WY that brings together a variety of musicians, but mostly in the bluegrass, folk, and rock genres. Of course, it didn't hurt that the official beer provider was the New Belgium brewery out of Fort Collins, CO.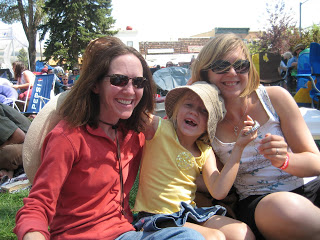 Julie, Kaylee, and I enjoying the sun and tunes.
We went Saturday, Aug 1st for the afternoon line-up. The first band,
Mike Mangione and The Band
, was fantastic and is the reason I enjoy music festivals: here was a group of musicians who write their own songs, incorporate a variety of instruments (cello! violin!) and have a great stage presence but aren't widely known yet. It's not often I buy CDs these days, but I went right up to the merchandise tent after their set and snapped one up (called
Tenebrae
– you can also get the songs through itunes). I can also say that we chatted with Mike and the bass player, John, and both were incredibly down-to-earth.
We also caught
Sweet Sunny South
, an old timey bluegrass band, and
Town Mountain
, a more modern bluegrass group. We really enjoyed that music as well and it provided a great ambience for chowing down on burgers and fries and checking out the vendors' wares.
A couple of days later I hit the road again, this time with Riker, to load up on freeze-dried food at
REI
in Salt Lake City for our camping trips, do some outlet shopping in Park City, and check out
Bear River State Park
near Evanston, WY. I'd passed the park on several occasions driving along the I-80 to and from Salt Lake, but never had the chance to stop. Its main feature is a captive herd of bison and elk that people can look at, but it also has paved pathways along the Bear River with picnic spots.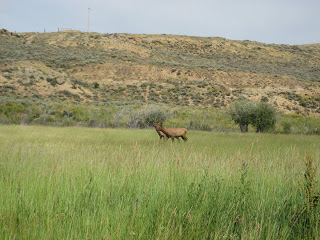 It was all a little too groomed and civilized for me and Riker, so we went tramping through the woods on little game trails and waded along the river. Along the way I startled this snake sunning itself on the warm river rocks.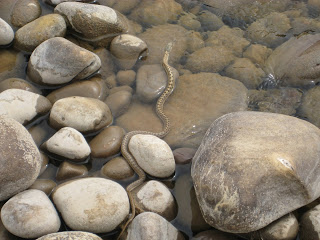 After a long and busy day, my co-pilot conked out on me. Riker still believes he can fit in the front seat and insists on squishing in there, even though he has the whole back of Ellie to curl up in (including his orthopedic bed laid out back there). As Doug says, he's a bit of a momma's boy.
I think he just doesn't want to miss out on any possible people snacks…