Forgive me father, for I have sinned, it has been 10 days since my last blog entry…
Ah, but I have so much to show for it: Today is my editor's official 'draft is due' deadline for the Laurentian book, and miracle of miracles, I'm just about ready to send off the final chapters! Of course there will still be editing, rewrites, formatting, and so on, but the manuscript is largely finished, the publisher has all the photos and captions in his possession, and he is confident enough in our May launch date that he has done the mock-ups for the cover and is going to list the book in his spring catalogue (it will be paperback, $30.95 CDN, approximately 225 pages, and have hundreds of photos!).
Can you tell how excited I am? Staring at my double-spaced prose in Word it's easy to forget that this is not just an extended paper, but that it will actually be a professionally-designed and printed book. Yippee!!
Adding to my excitement is the fact that my article, "Flying away from it all," appeared in the February/March issue of
The Beaver: Canada's History Magazine
. I definitely did a little happy dance when my copy came in the mail (and when the money appeared in my account) and it is just way cool to have an article in the same publication as one of my history heroines,
Charlotte Gray
! (p.s. un gros merci au directeur artistique,
Michel Groleau
, pour la belle mise en page!)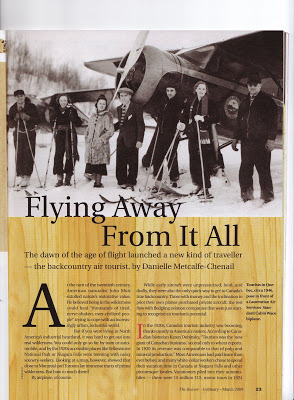 Here's the first page of my three-page article in the Beaver, which is available now on Canadian newsstands (unless you're in the Gloucester, Ont. area, in which case I think my mum and mother-in-law have bought up most of the copies!).
My next article project is a profile of John Bogie, president of Laurentian for several decades, and all-around aviation pioneer. This piece is for the Journal of the Canadian Aviation Historical Society, and I have a week to write it, which shouldn't be an issue because I have all the materials at my fingertips from the past year and a half of research, interviews, and photo gathering. Even so, I'll have to be careful not to indulge my cabin/spring fever too much.
I did make a break for it last week and attended my first ever poetry slam session in Rock Springs. As the newspaper write-up describes it, a poetry slam is "known as the Olympics of performance poetry." Basically, a few judges are picked from among those present and judge participants' poetry and performances. Participants must bring three original poems (for a possible three rounds of competition) and are eliminated each round based on their scores. Then there are cash prizes at the end for top finishers!
I didn't bring anything to read, but I enjoyed myself immensely, made some new artsy acquaintances, and was seriously inspired. So much so that I wrote a couple of rough drafts that night, and another the following morning. Now I just have to polish them up in time (and psych myself up) for the next one…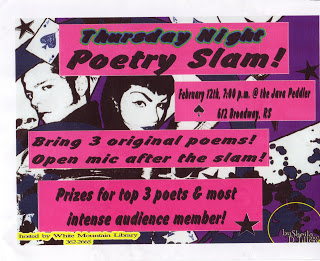 My friend, Luke, won the prize for "most intense audience member" – no surprise there! Luke is the creator of The Fiddler, a bi-weekly publication that features local businesses and fun stuff like comics, games, etc. He has a background in acting and design. If you want to see how nuts he is, check out "The Farthest Outhouse" on https://www.skippyswell.com/.