On Monday, July 13th, Doug had to go to Denver for two days of oral exams to move from the training/apprenticeship stage of his job to full-fledged Field Engineer status. The company would have paid for his flights, but we got the go-ahead to drive there instead (only 5 hours) and so set off around noon from Green River, WY on the I-80 eastbound and then headed south at Laramie for the more scenic drive down to Denver through Fort Collins.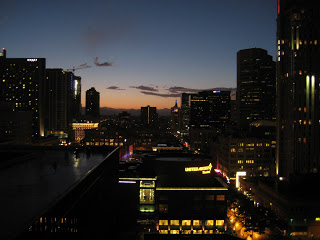 The company had us (and the other candidates) set up in the downtown Sheraton, smack dab on the 16th Street Mall, an open-air pedestrian mall that stretches for over a mile. We were on the 16th floor (lucky number?) with this incredible view of the downtown core and the Rockies beyond. Our first day in town, Doug had a full day of interviews so after we had breakfast at the
Delectable Egg
I went for some much-needed pampering at the
Body Massage Wellness Spa
a few blocks from the hotel, then grabbed some lunch at
Cook's Fresh Market
, a gourmet deli/grocery store, before heading out to my hair appointment (more pampering!) at
Shear Productions
. Then I walked the 16th Street Mall from one end to another, stopping in at some of the stores for some air conditioning and big city fashion.
Doug had told me he was to have dinner with the company people, so I took myself to
Earl's
upstairs patio for mojitos, food, and people watching. Soon afterwards, though, Doug called me to let me know his group were headed my way, so I saved tables and got to meet some of the other folks.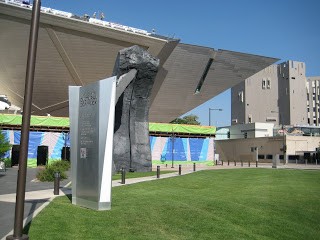 The next morning Doug had his final round of chats and a wrap-up session, so I decided to hit the streets while it was still cool for some exploring. Right around the corner from the hotel are most of Denver's museums, art galleries, and civic buildings. They weren't open yet, though, so I didn't make it inside but I fully plan to check out the
Colorado History Museum
,
Denver Public Library
, the
Molly Brown House Museum
, and the haunted
Brown Palace Hotel
on my next trip to Denver.
I did make it to one museum, though, the
Black American West Museum
, about a 30-minute walk from the hotel. It's off the beaten tourist track in the Five Points neighbourhood, often called the "Harlem of the West" because of its proliferation of jazz clubs in the 1920s-1940s where Billie Holiday, Miles Davis, and Duke Ellington played before integrated audiences. Now it's got a more hispanic flavour, but the museum is a testament to the neighbourhood's, Denver's and the West's Black past. It's housed in the former residence of
Dr. Justina Ford
and gives a great overview not only of Denver's first Black doctor, but also Buffalo Soldiers, Black cowboys and settlers in the West, and the utopian Black colony of Dearfield, Colorado. This is an area of history not often taught and my knowledge is sorely lacking. My visit was very enjoyable and I picked up a copy of Charlene Porter's historic novel,
Boldfaced Lies
, about race relations, the KKK, and identity in Colorado which I can't wait to read.
That afternoon Doug slept while I enjoyed the roof-top pool and then we headed out for dinner at
Ling & Louie's
, where the spring rolls are divine and they serve up cool twists on classic cocktails like the Ginger Cooler (sake, ginger beer, lemon and lime and crushed mint). After walking off our considerable dinner by heading over to the
Tattered Cover Bookstore
in trendy LoDo (Lower Downtown), we went for dessert at
The Cheesecake Factory
where they have 20+ different kinds of cheesecake on the menu. Yum!!
The next morning, our final foodie stop was for breakfast at
Sam's No. 3
restaurant, which has been around since the 1920s. If you're ever in Denver, you need to stop here: their early-bird (before 10am) specials are around $4 and you will get enough food to last you to lunch and beyond! Then we packed our stuff into the Mini and got on the I-70 west for a four-hour drive through the Rocky Mountains past all those ritzy ski areas of Golden, Vail, and Aspen and into the wine and fruit-growing region of
The Palisades
, just east of
Grand Junction
. There we bought a couple of the juiciest peaches ever from a road-side vendor, and sampled wines at the Grand
River winery
.
By this time, it was 5 p.m. and the car's thermometer said it was 38 degrees celsius. The original plan was to go to the
Colorado National Monument
and hike into a primitive camping spot. We were melting standing still, though, so there was no way we were going to load up our packs and head to a lower elevation with higher temps. So we decided to wing it and jumped back in the car, headed north toward Rangely and agreed that when the temperature dropped under 30 degrees we'd start looking for a place to camp (it's mostly public lands up the
Dinosaur Diamond Scenic Byway
).
This happened around 6:30pm at Douglas Pass, where the elevation was about 8,000 feet. After climbing a gravel road switchback, we stopped the Mini by a clearing where we startled a mule deer. We walked 10-minutes down to the spot and set up camp right over where the deer had been bedded down.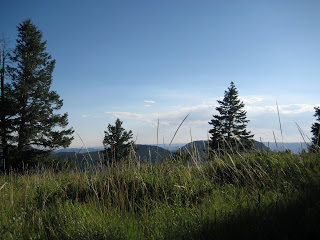 The view from our tent – and no bugs either!
Colorado is known for its microbrews (not just Coors anymore!) and so we picked up a mixed case of Denver-based
Great Divide
beers in Grand Junction, which just happened to still be cold when we set up camp. Nothing goes better with freeze-dried curry than a good beer!
Friday morning, after sleeping under a blanket of stars (well, a lot of tossing and turning for me. Were there bears here? I couldn't remember!) we continued north to Irish Canyon – named for the three Irishmen who robbed a saloon and stopped at this location to consume part of the take – for a little hike. We didn't go for long, though, as it was high noon and the sun was beating down on us!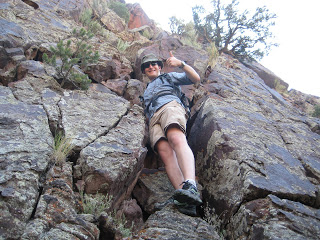 Doug, doing his best Spiderman impersonation in Irish Canyon, decided to climb up a sheer rockface and hide from me. As every hiker knows, though, it's always harder to get down than it is to get up. Don't worry, I guided him to safety….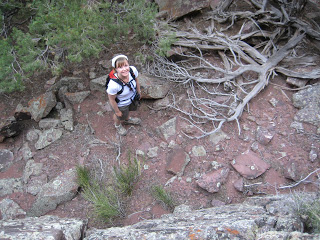 After Irish Canyon we drove to
Browns Park
, a nearby wildlife refuge along the Green River near the borders of Colorado, Utah, and Wyoming. It also has a one-vehicle swing bridge which Doug thought was pretty cool (and so had to drive over).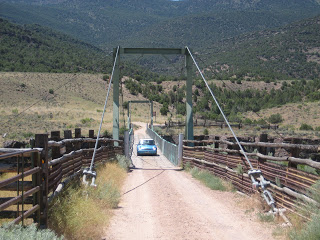 Then we headed home through Flaming Gorge Recreation Area, with a quick stop in Manila, Utah for sandwich fixings and an ice cream treat. Now Doug's back at work for the next two weeks and I'm settling into a post-book/new project schedule. But Colorado, you and I will definitely meet again….