We've been in our new house for about a month and a half now and people are clamouring for pictures of the renos. No before and afters yet, folks, but here are some in-process shots of our 'half-way there' house:
The main bath back in mid-March when I took down the hinged mirrors, demo-ed the DIY ceramic tile backsplash, and revealed that it used to be painted (ceiling and all) this day-glo green.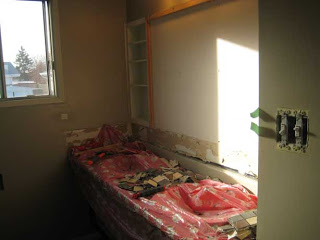 A blank slate and lots of mudding to do to repair those walls…
When Doug arrived in Edmonton one of our first orders of business was stripping the wallpaper in the dining/living room (and the basement bathroom, which had it on every available surface). Here he's still smilling as he removes leftover screws and nails. After hours of steaming and washing sticky goo off the walls? Not so much! [p.s. don't waste your money on wallpaper scorers – they seemed to make it harder!]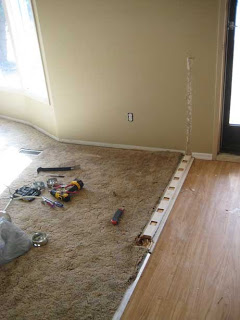 The front entryway had this half banister that just didn't work for us. So Doug ripped it out of the floor and off the wall and removed the pendant lights above it.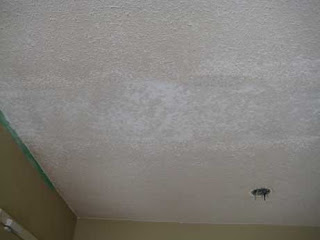 Unfortunately the ceiling had a popcorn finish that was old and grimy. When he used a new spray can of the finish it was bright white and looked seriously out of place. So we decided to remove all the
popcorn ceiling
in the main living area. After some trial and error we hit upon a great system: one person has a roller on an extension handle and a bucket of soapy water while the other one stands on the ladder and uses a wide mudding spatula to scrape the ceiling!
Next on the list was
ripping up the carpeting
in the living room and dining room. It smelled of pee and smoke and was at least 10-15 years old. Had to go. I wasn't taking any chances, though, so I donned my goggles and facemask and then had at it with my utility knife, pry bar and brute strength.
When I saw all the stains on the underside of the carpet, I was very glad for my safety gear and my trips to the backyard to dump it – at least I got fresh air every few minutes!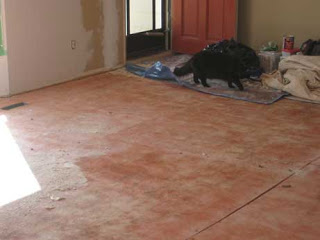 The carpet underlay was gross and all that got tossed too. I had a full load for the
Eco-Station
that day and rode there with the windows down so Riker and I wouldn't suffocate!
[Don't worry, the after shots will come soon!]