Dawson may be a small town (1,200 permanent residents) and the Yukon Territory may be one of the most sparsely populated places in the world (30,000 people in 2006), but it seems everywhere I go I find connections to the place I will call home from October to December of this year.
The first 'coincidence' was a couple weeks back when my colleague and friend, John Chalmers, invited me to take my pick of books at his mother's house, which he is clearing out for sale. I had an armful of books – mostly CanLit and history, of course – when I spotted one that had fallen between the counter and some boxes. It turned out to be Starting Out, Pierre Berton's memoir of years 0-27! John was nice enough to let me have it and I've since read the whole first chunk about Pierre's childhood in Dawson…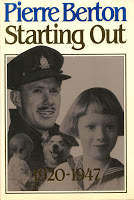 Recently my mom also discovered we have a long-lost cousin living in Whitehorse, the capital of YT. Bruce Barrett is a historic sites project officer for the
Department of Tourism & Culture
and worked on researching and compiling an air crash registry a few years back. Can't wait to meet him and all the aviation history contacts he's been putting me in touch with!
"Queen of the Yukon" on display at the Yukon Transportation Museum
You never know who you'll meet at breakfast! While chowing down two Mondays ago at the Wedgewood B&B; in Kamloops, I started chatting with the two other guests: Doug and Marie Mervyn. Not only were they lovely people, but it turned out Doug's been flying since the 1950s and his son operates Mervyn's Yukon Outfitting based in Whitehorse (and owns a couple of small planes for the business). They gave me his contact info and I'll probably interview him for the book on aviation in the north!
The Mervyn Family up in YT
A few days later I was in B.C.'s Lower Mainland giving talks to the Quarter Century in Aviation Club and the Langley Aeroclub. Well, you'd better believe at least 1/2 those folks had some connection to flying in the north and many had been to Dawson. I now have a good-sized stack of business cards from flying Bishops and bush pilots ready to go! And it turns out that John Lovelace's 2010 flying trip will be to the Yukon: it is Klondike Fever all over again!
Of course, when I'm in Dawson it will be the opposite of the 'Midnight Sun' – it will be the time of twilight at midday. But after meeting
Claire Festel
at the
Creative Nonfiction Collective conference
at the
Banff Centre
last weekend, I am even more excited about going. Claire grew up in the Laurentians, went to university in Alberta, and then went to the Yukon to work for one summer. And she fell in love with the place. Last October she returned south, settling in the Okanagan Valley, but was happy to share her tips for a winter in Dawson: there are yoga classes, bring your woolies (no need for 'fall' clothes in October), and there should be plenty of 'community dogs' for me to take for walks when I'm missing Riker. (Doug says I'm not allowed to adopt any 'community husbands', though!)
Claire out for a stroll
And while the weather will be cold and chilly, at least Edmonton is helping to acclimatize me in advance: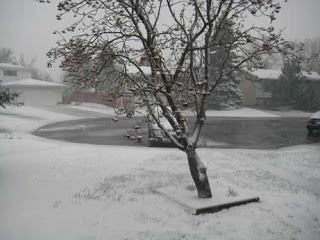 View out my front window this morning