The air was nippy when we arrived at
Muktuk Adventures
north of Whitehorse, but the sun was warm enough to melt the weekend's snow and turn the road and yard into a mud pit. The 100+ huskies didn't seem to mind, and those that weren't fast asleep on top of their huts barked in greeting.
On the porch were half a dozen "old-timers" who get free rein after years of dedicated racing. Some hobble over for a sniff and a pat, others raise their heads slowly to look at you, and then go back to sleep. One – a spry little girl named Glacier – bounces around in all her ADHD glory. She's got a bum leg so doesn't race, but is still a valued part of this little community. (They are looking for 'retirement homes' for the older dogs, though, in case you're interested!)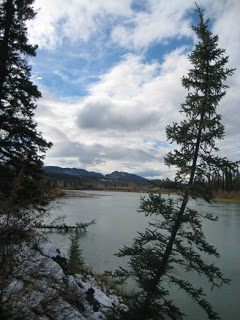 Muktuk's sits on the edge of the
Takhini River
and during their off-season the dogs get daily walks and swims. In the winter when it freezes over, it's a perfect spot to train. During this shoulder-season time, they start training with wheeled carts and it's something to see: a pack of huskies bounding joyfully ahead of a cart with two trainers egging them on. There are no shocks on these babies, folks!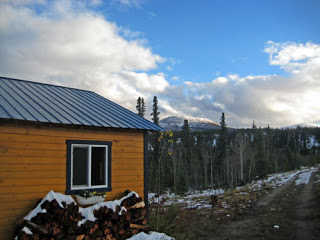 We got upgraded to Riley's Roost, which was a very spacious wood cabin on the corner of the property. There's no electricity or running water but the little wood stove did a fantastic job of keeping it toasty through the night.
While it had a camp stove, we decided to join the Muktuk's crew and some other guests for Sunday night dinner in the big house. Frank gave me a musical education with his vast CD collection (Northern Tutchone artist
Jerry Alfred
is incredible) and gave me a Yukon education: regaling me with stories about his 30+ years in the north, his 24
Yukon Quest
experiences (it is 1000-miles from Whitehorse to Fairbanks in February!), and insights into Yukon politics.
I think I liked Joe best because he reminded me of my dog, Riker…

Monday morning after eggs, bacon and thick slabs of bread from
Alpine Bakery
in Whitehorse, we packed up our stuff, bid adieu to Frank and the dogs, and headed north for my first glimpse of my new Dawson home.