On Friday afternoon the snow started falling… and falling… and falling…
By Saturday morning there was a good 20 cm of fresh powder. Even though motorists were advised to
stay off the roads
, they didn't look that bad in our area yet and so we piled the dog into the Honda Element (with snow tires) and headed for a hearty breakfast at
Cora's
. Then off to the dog park with our snowshoes.
We certainly weren't the only ones braving the snow and Riker had a good romp with some other dogs. As you can see above, the snow was already skimming the bottom of the park bench, and the storm was only half over!
Yesterday we didn't attempt to take the vehicle out, and on our walks with Riker we strapped on our snowshoes at the end of the laneway!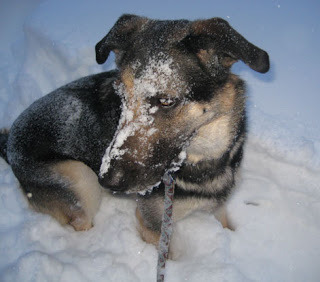 Riker is just loving all this snow (he dives into drifts and banks head first) and we like how much the chest-high powder tires him out.
The city is slowly
digging itself out
this morning, but for some, rescue might not come until spring. Yes, that is a small pickup truck facing the sedan…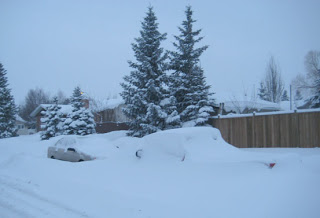 The big hit is done, but the weather network promises a few more flurries in the coming days even as the temperature plummets and the wind picks up. I feel pretty lucky, though – working from home I don't have to battle the roads and I'm still acclimatized to the cold from my time up north…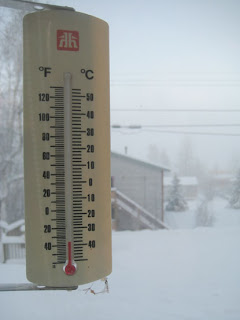 Berton House thermometer during December cold snap